Cosmetic, Restorative, and General Dentistry in Orange County at OC Lifesmiles
At OC Lifesmiles, our purpose is twofold: to create beautiful smiles and keep them looking and feeling great. Some of our cosmetic and restorative dentistry patients from the Orange County area may see incredible results in as little as one visit; maintaining those results requires routine check ups, cleanings, and periodontal care. OC Lifesmiles proudly offers these services, and much more, for you and your entire family.
Combining an artistic eye with cutting edge technology, Dr. John Cross designs smiles that enable you to speak, laugh, and smile confidently. Dr. John Cross is joined by a team of trained hygienists and equipped with tools like CEREC® 3D, Zoom!® in-office whitening treatment, and Zap dental lasers to make their dental work quick, virtually painless, and effective.
For individuals with restorative dentistry needs, the staff at our Orange County practice can craft high-quality, durable restorations for dental implants.  We work closely with several oral surgeons who can place the implants before we top them with a natural-looking crown or bridge. If you would like to learn more about dental implants, or another restorative option at OC Lifesmiles, please contact our practice today.
Featured Procedures at OC Lifesmiles
CEREC®
CEREC® is a wonderful tool that our dentist uses to create dental restorations like crowns, inlays, and onlays – right in our own office. In the past, patients had to visit us several times for fittings, and wait for a laboratory to manufacture and ship the restoration. Our CEREC® machine eliminates the need for multiple trips, lab work, and waiting while the restoration is crafted and sent to our office. The entire process takes as little as one hour per tooth!
Invisalign®
Straightening crooked or misaligned teeth has traditionally involved wearing a set of uncomfortable metal braces for years. However, with Invisalign®, a recent development in orthodontics, patients wear a series of clear aligners that are virtually undetectable. Our dentist at OC Lifesmiles works with an orthodontist to fit patients for a custom set of the comfortable, removable aligners. If you are concerned about bite or alignment problems, ask us about Invisalign® or other restorative dentistry options at our Orange County practice.
Zoom!®
A highly effective teeth whitening system, Zoom!® utilizes a special gel and a blue plasma light to brighten teeth by up to eight shades in just one visit. Patients of OC Lifesmiles are continually impressed with the dramatic and long-lasting results of this cosmetic dentistry option available at our Orange County practice.
Smile Design Using DURAthin® Veneers
Taking pride in your smile is an important part of being confident and comfortable with yourself. We invite you to visit OC Lifesmiles for a comprehensive smile design. Our dentist will discuss the elements of your smile that you don't like, and develop a treatment plan based on your feedback. Often, smile designs include DURAthin® porcelain veneers (also known as the "no-prep veneers") which are a wonderful way to straighten, reshape, and whiten teeth.
Periodontal Care
Periodontal care is an important building block in the foundation of good oral health and general health. We offer some of the most advanced diagnostic technology, like ADDX bacterial testing and Arestin®, to detect and treat periodontal disease in its earliest stages. If we do find plaque build-up or any infection, we can treat it before it develops into something more serious.
Featured Before-and-After Case
The case below showcase the skill and technique representative of our practice. View our gallery for more before-and-after cases from OC Lifesmiles.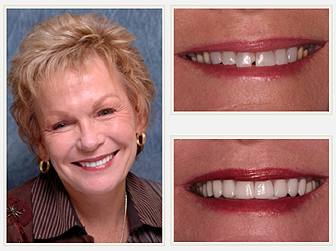 Contact OC Lifesmiles Today
For more information about the cosmetic and restorative dentistry practice of Orange County dentist Dr. John Cross, please contact OC Lifesmiles today. We will be happy to set up a consultation with you to talk about all of the options we offer.