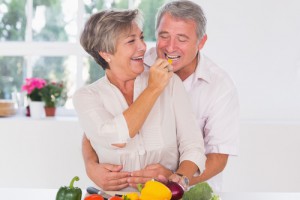 Many of our patients at OC Lifesmiles seek an alternative to traditional dentures. Implant supported dentures offer a method of tooth replacement that does not involve the inconveniences of messy dental adhesives or uncomfortable slipping. With the support of dental implants, dentures can allow you to speak and chew with greater ease. Using this advanced restorative dentistry technique, Dr. John Cross can provide you with more comfortable and stable dentures while giving you a smile that both looks and feels natural.
Procedure for Implant Supported Dentures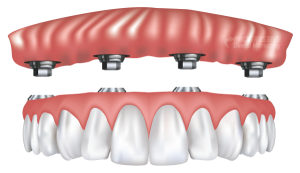 Implant supported dentures are considered a minimally invasive procedure. First, Dr. Cross will place the titanium posts of the dental implants into the gum. These posts are used to set the denture securely into place. The dentures will be placed on top of the posts, offering you a more comfortable fit and a reduced chance of movement or slippage along the gums. Dr. Cross or a knowledgeable member of our staff will provide you with detailed instructions for maximizing the lifespan of your implant supported dentures and maintaining your new and natural looking smile.
Benefits of Implant Supported Dentures
If you have missing teeth but desire a stronger and more stable form of tooth replacement, implant supported dentures may be the solution you seek. In addition to the cosmetic benefits of having your teeth restored, implant supported dentures can offer benefits including:
Durable dentures that dramatically minimize slippage and movement
Reduced bone loss compared to traditional alternatives
Easy maintenance
Elimination of adhesives and pastes
Improved speech
No food restrictions
Increased comfort while eating and speaking
Dr. Cross will perform a comprehensive oral examination to determine your candidacy for implant supported dentures. Some patients who do not have sufficient jawbone density for full dental implants opt for implant supported dentures as an alternative. Conversely, patients with extremely limited jawbone density may not be candidates for this procedure. Dr. Cross will help you determine which method of tooth replacement can best achieve your goals.
Contact Us
If you would like to learn more about implant supported dentures, or to schedule a consultation with Dr. Cross, please contact our office today.