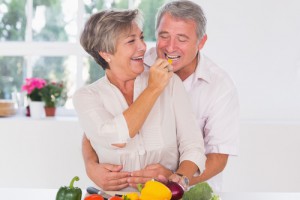 Many of our patients at OC Lifesmiles seek an alternative to traditional dentures. Implant-supported dentures offer a method of tooth replacement that does not involve the inconveniences of messy dental adhesives or uncomfortable slipping. With the support of dental implants, dentures can allow you to speak and chew with greater ease. Using this advanced restorative dentistry technique, Dr. John Cross can provide you with more comfortable and stable dentures while giving you a smile that both looks and feels natural.
What Are Implant-Supported Dentures?
Implant-supported dentures utilize strategically placed dental implants along the gum line to anchor each denture in place. Compared to traditional dentures, this innovative missing tooth solution has many unique advantages. The dental implants themselves are made of titanium and fuse to the jawbone, providing exceptional stability. The denture then attaches to these dental implants, eliminating the need for messy adhesives or pastes as well as the fear of "slippage." The dentures are custom-made for a comfortable fit and a beautiful, natural-looking appearance.
What Are the Benefits of Implant-Supported Dentures?
If you have missing teeth but desire a stronger and more stable form of tooth replacement, implant-supported dentures may be the solution you seek. In addition to the cosmetic benefits of having your teeth restored, implant-supported dentures can offer benefits including:
Durable dentures that dramatically minimize slippage and movement
Reduced bone loss compared to traditional alternatives
Easy maintenance
Elimination of adhesives and pastes
Improved speech
No food restrictions
Increased comfort while eating and speaking
Am I a Good Candidate for Implant-Supported Dentures?
Dr. Cross will perform a comprehensive oral examination to determine your candidacy for implant-supported dentures. Ideal candidates will have sufficient jawbone density to support the dental implants. Those who are not eligible for a full set of single tooth dental implants often choose implant dentures as an alternative, since the solution can still provide many of the same benefits. Conversely, patients with poor jawbone quality may not be candidates for implant dentures. Dr. Cross will help you determine which method of tooth replacement can best achieve your goals.
What Are the Different Types of Implant Dentures?
An implant-supported denture refers to any denture that is secured through the gums with dental implants. There are several types of implant dentures that can be used depending upon the needs of the patient. Jawbone density and whether one or both arches require replacement will factor into which type of implant-supported denture is best for you. Types of implant dentures include:
All-on-4®
All-on-4® is a specific implant denture technique that uses a system of four dental implants per arch to secure the denture. Two implants are placed toward the front of the mouth and two additional implants are placed toward the rear of the mouth and angled posteriorly. This unique configuration optimizes support with the fewest number of implants.
All-on-6
The All-on-6 technique is a modified version of All-on-4® that uses six dental implants per arch rather than four. In many cases, patients who choose All-on-6 have lower jawbone density, and the extra dental implants can provide additional support for their restoration.
Full Mouth Restoration
A full mouth restoration is designed for patients who require both arches of teeth to be replaced simultaneously. Depending upon the jawbone density, approximately four to six dental implants may be placed in the upper gums and an additional four or six implants in the lower gums.
What Can I Expect During the Implant-Supported Dentures Procedure?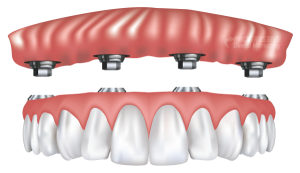 First, Dr. Cross will place the titanium posts of the dental implants through the gum tissue. These posts are used to set the denture securely into place; however, it will take some time for these implants to fuse to the jawbone. During this time, a temporary restoration may be worn. Once the fusion is complete, the custom permanent dentures will be placed on top of the posts, offering you a more comfortable fit and a reduced chance of movement or slippage along the gums. Dr. Cross or a knowledgeable member of our staff will provide you with detailed instructions for maximizing the lifespan of your implant-supported dentures and maintaining your new and natural-looking smile.
Why Choose OC Lifesmiles for Implant-Supported Dentures?
Our highly-trained dental team and experienced cosmetic dentist create implant-supported dentures out of high-quality, medical-grade materials. We use state-of-the-art implant dentistry techniques to help patients achieve their restorative and aesthetic goals. Our team's priority is to help improve your smile so that you can regain confidence to speak and eat freely without worrying about your dentures slipping or moving around in your mouth.
How Much Do Implant-Supported Dentures Cost?
The average cost for a single arch of implant-supported dentures usually ranges between $15,000 and $30,000. Since every implant denture procedure is customized for the patient, the price will vary from case to case. Most patients find that the cost of implant-supported dentures is substantially less than a full set of single tooth implants. Some patients may choose implant-supported dentures as a cost-effective alternative that can still provide many of the same benefits as single tooth dental implants.
Variables that may influence the final price of the implant-supported dentures procedure can include:
Number of implants
Type of implant-supported dentures
The complexity of the procedure
Laboratory costs to manufacture the restoration
Materials used for the denture
Skill and experience of the dentist
Geographic location of the practice
At the end of your initial consultation, Dr. Cross can provide you with an accurate quote for the total price of your procedure. At OC Lifesmiles, we offer a number of flexible dental financing options that can help qualified applicants obtain low to no interest loans with low monthly payments. If you are interested in learning more about these financing options and how they may work with your budget, please contact a member of our staff today.
Additional Frequently Asked Questions
Are implant dentures comfortable?
Implant dentures are often considered more comfortable and secure than traditional dentures. Since they are permanently affixed to the jaw, patients do not have to worry about the dentures slipping or falling out of the mouth.
How do I care for my implant dentures?
Implant dentures need to be carefully cleaned daily, just like regular teeth. Patients need to brush and floss at least twice a day, as well as undergo professional dental cleanings at least twice a year. Going to regular dental checkups allows the dentist to clean your teeth in hard to reach areas of the mouth and ensure that the implants are still in their desired placements. With the proper care and maintenance, implant dentures can usually last a lifetime.
Do implant dentures look natural?
Implant dentures are designed to look and feel like natural teeth. Dr. Cross customizes the implant-supported dentures so that they can blend seamlessly with your surrounding teeth. Most of the time, other people cannot even tell that patients have implant dentures unless the patient tells them.
Is the implant denture procedure painful?
Before the implant denture procedure begins, your dentist will numb the area where the implants will be placed. You may feel pressure, but patients rarely complain about experiencing any discomfort or pain during the process. After the anesthesia wears off, patients may experience some discomfort for a few days. We usually recommend taking over-the-counter pain medications to ease any soreness. To ensure that the healing process goes as smoothly as possible, we tell our patients to follow the detailed post-operative instructions that are given to them after the procedure.
How many dental implants will I need?
The number of implants needed will vary depending on how many teeth are being replaced and the patient's jawbone density. Some individuals may only need two implants and others may need more than six. Your dentist will make sure to evaluate the current state of your mouth carefully to determine how many implants will achieve the best results for your implant denture.
Will I need a bone graft before I can get my implant dentures?
Patients must have healthy jaw bone tissue to adequately support the dental implants. Your dentist may recommend bone grafting if you have an insufficient amount of jaw bone. Bone grafting is a beneficial procedure that can repair, or rebuild, damaged or diseased jaw bone tissue in preparation for implant placement.
Contact Us
If you would like to learn more about implant supported dentures, or to schedule a consultation with Dr. Cross, please contact OC Lifesmiles today.