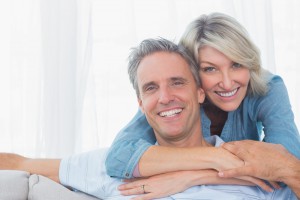 Dentures are a suitable option to restore functionality and aesthetics to a smile that is missing all or many teeth. Crafted from attractive, durable materials, dentures closely mimic one's natural teeth to create a full and functional smile. When you have dentures placed at OC Lifesmiles, you can trust that they will fit comfortably and look natural.
Benefits of Dentures
A full, beautiful smile can help you look and feel your very best, and traditional removable dentures typically provide the most cost-effective and conservative approach for achieving this goal. Whether you are missing many of your teeth, all of your teeth, or have a smile that is badly damaged by severe dental issues, dentures can be an effective solution for restoring a healthy, confident, and natural-looking appearance. Some of the many potential benefits of dentures from OC Lifesmiles include:
Fully customizable to create a smile that suits and complements your appearance
Crafted to fit your mouth and gums comfortably
Made of high-quality, durable materials
Manufactured by a trusted dental lab
Enable you to once again smile with confidence
Types of Dentures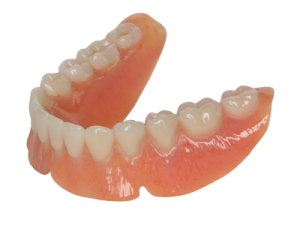 Depending on the number of teeth missing, our Newport Beach dentist, John Cross, DDS, may suggest full or partial dentures. Full dentures replace all of the missing teeth on one or both jaws. While it may take a few days to adjust to full dentures, they are comfortable and easy to wear. Partial dentures can also be crafted to fill in gaps between existing teeth.
In addition to traditional removable dentures, we also offer full-arch replacement options that are fixed in place with dental implants, which are called implant supported dentures or All-on-4® implant dentures. The right option for you will depend on a variety of factors, including the status of your dental and oral health, your cosmetic and functional goals, and your budget. Together with Dr. Cross, you will be able to explore all of your choices and select the customized treatment plan that is best suited to your needs.
Fitting and Crafting Dentures
Dr. Cross will fit you for a set of dentures at our Orange County office. The dentist will take impressions of your teeth and gums, and use these measurements to craft the design of your dentures. If you are interested in full dentures and still have some remaining teeth, they will have to be extracted before your impressions are taken. Dr. Cross will explain the materials available for your dentures, discuss the aesthetic and comfort benefits of each option, and provide information about each material's cost. Once all of the information has been gathered, it is sent over to a dental laboratory where your dentures are created.
Our practice works with a trusted laboratory to carefully and precisely manufacture your custom set of dentures. Once your dentures are ready, you will return to our office so Dr. Cross can check the fit and feel. We will make sure that you are fully satisfied with the color, shape, and appearance of your dentures.
Denture Care
If properly cared for, dentures can last for many years. When you receive your dentures, Dr. Cross will educate you on the proper way to clean, adhere, and maintain them. The precise instructions will depend on the material your dentures are crafted from, so it's important to pay close attention to the directions Dr. Cross provides. Even though you may no longer have teeth, it is still important to make regularly scheduled dental appointments. It's critical to check the status of your gum health and the fit of your dentures to prevent the development of problematic disease or discomfort.
For more information about dentures and the many implant-secured alternatives we offer, we encourage you to contact OC Lifesmiles to schedule a consultation with Dr. Cross.