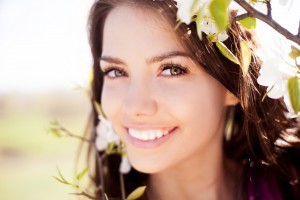 OC Lifesmiles is known for providing state-of-the-art smile makeovers. Our experienced cosmetic dentist, John Cross, DDS, is extremely adept in the latest dentistry techniques, and he utilizes high-tech equipment to accommodate many procedures you request. Often, our patients desire (or Dr. Cross will suggest) a combination of several cosmetic dentistry procedures to achieve the most aesthetically pleasing results. This may include complementing Invisalign® orthodontic treatment with a Zoom!® tooth whitening technique, or perhaps sculpting the gums and placing a beautiful set of porcelain veneers. Whatever your preferences may be, our staff is happy to work with you to develop a treatment plan that meets your needs and aesthetic goals.
The Smile Makeover Process
The first step in a smile makeover is a consultation with Dr. Cross. During your appointment, Dr. Cross will perform a thorough dental exam to evaluate your oral health and then carefully review any cosmetic concerns you may have about your smile. When patients come to Dr. Cross seeking a dental transformation, they are commonly interested in resolving the following types of aesthetic issues to achieve an enhanced smile:
Chipped, cracked, worn, or broken teeth
Misaligned or crowded teeth
Stained or discolored teeth
Missing teeth
Gaps between teeth
An uneven gumline
Dr. Cross can correct any or all of these issues by customizing a smile makeover treatment plan that combines the right procedures and treatments to give you a healthier, more beautiful smile. Using an advanced computer imaging system, he can create a redesigned image of your current smile to show you the kind of results you may be able to achieve with an individualized treatment plan. Should you decide to proceed with your smile makeover, this computer imagery will serve as the precise model for crafting any restorations or orthodontic devices necessary for accomplishing your goals. Each stage of your treatment will be highly customized and tailored to suit your needs.
Combining Cosmetic & Restorative Solutions
Your smile transformation may involve a blend of treatments and procedures to create the ideal smile you are seeking. During your consultation, Dr. Cross will discuss which smile enhancements he thinks may deliver the best results. Depending on the type and complexity of your dental challenges, he may suggest one or several of the following procedures to accomplish a comprehensive smile makeover:
The main goal of a smile makeover is always to improve both the health and beauty of your smile using the highest quality restorations and cosmetic treatments. When you choose OC Lifesmiles and Dr. Cross to help you achieve a dramatic smile transformation, you can rest assured that you will receive the highest level of individualized care that is always focused on your long-term satisfaction.
Contact OC Lifesmiles for a Smile Makeover
For more information on our smile makeover treatments, or to schedule an appointment, please contact OC Lifesmiles today.