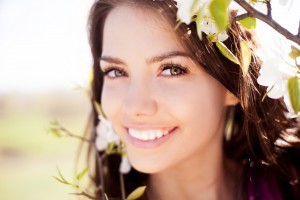 OC Lifesmiles is known for providing state-of-the-art smile makeovers to achieve dramatic improvements in the appearance of patients' teeth and overall smiles. Our experienced cosmetic dentist, John Cross, DDS, is extremely adept in the latest cosmetic and restorative dentistry techniques, and he utilizes high-tech equipment to perform the treatments included in smile makeover plans.
What Is a Smile Makeover?
A smile makeover is a customized treatment plan designed to enhance several cosmetic aspects  of the teeth and smile. Individuals who want to change the shade, size, shape, and/or alignment of teeth, while also repairing dental damage, replacing old dental work, and/or restoring oral health can achieve all of their goals with a meticulously planned smile makeover. 
Often, our patients desire (or Dr. Cross will suggest) a combination of several cosmetic dentistry procedures to achieve the most aesthetically pleasing results. This may include complementing Invisalign® orthodontic treatment with a Zoom!® tooth whitening technique, or perhaps sculpting the gums and placing a beautiful set of porcelain veneers. Whatever your preferences may be, our team is happy to work with you to develop a treatment plan that meets your needs and aesthetic goals.
What Are the Benefits of a Smile Makeover?
A smile makeover can correct a wide array of cosmetic concerns affecting the appearance of one's smile. Each treatment plan is developed to restore both health and beauty, as addressing both simultaneously is the best approach for creating satisfying and long-lasting results. When you come to OC Lifesmiles for a smile makeover, you can expect Dr. Cross to utilize the latest diagnostic, planning, and treatment technology along with high-quality materials and the most advanced treatment techniques. The goal for every smile makeover is to create a dazzling, personalized result that enhances the patient's overall appearance and exceeds expectations.
If you are curious about what a smile makeover can achieve, here is a list of improvements many of our patients request:
Brighter, whiter teeth
A more even and proportional gumline
Longer, more optimally shaped teeth
Straighter smile
Reduction of gaps between teeth
Repair of dental damage
Replacement of sub-optimal, aging, or damaged dental restorations
New smile design that enhances facial aesthetics
A younger-looking smile
At OC Lifesmiles, a smile makeover can make your dream smile a reality! The first step is scheduling a consultation with our experienced cosmetic dentist for a full discussion and evaluation of your needs and desired outcome. 
Who Is a Candidate for a Smile Makeover?
Nearly anyone who wishes to improve the appearance of their smile can be a candidate for a smile makeover; however, if you have signs of severe dental damage, missing teeth, or extensive disease, you may be a more suitable candidate for a process called full mouth restoration. While a smile makeover typically includes more cosmetic treatments, a full mouth restoration plan may include more advanced and invasive procedures, such as the placement of dental implants, periodontal treatment, and restorative procedures. Although there are differences between a smile makeover and a full mouth restoration, the end goal is generally the same—to create a healthy, functional, beautiful smile that boosts self-confidence! No matter what your dental concerns are, we welcome you to schedule a consultation with Dr. Cross to discuss your treatment options and start your journey to a gorgeous new smile.
What Are My Smile Makeover Treatment Options?
Your smile transformation may involve a blend of treatments and procedures to create the ideal smile you are seeking. During your consultation, Dr. Cross will discuss which smile enhancements he thinks may deliver the best results. Depending on the type and complexity of your dental challenges, he may suggest one or several of the following procedures to accomplish a comprehensive smile makeover:
Porcelain Veneers – Porcelain veneers are thin shells of ceramic materials that can conceal a wide variety of cosmetic dental concerns in a single, conservative procedure. High-quality veneers can accomplish a dramatic smile transformation that is stain-resistant, natural-looking, and long-lasting.
Dental Implants – Dental implants are the current gold-standard for replacing missing teeth with results that look, feel, and function much like natural teeth.
Teeth Whitening – Professional in-office and at-home teeth whitening treatments can lighten most types of dental stains and discoloration for a brighter, whiter smile.
Invisalign® – Invisalign is the most modern, comfortable, and discreet way to straighten your smile. The process uses a series of clear plastic aligners to shift teeth into place without the need for traditional wires and brackets.
Gumline Recontouring – Excessive or uneven gum tissue can affect the appearance of your smile. With gum recontouring techniques, Dr. Cross can create a more balanced, symmetrical, and proportionate gumline that may elongate the appearance of your teeth and/or enhance the overall appearance of your smile. 
Porcelain Crowns – Porcelain crowns can restore both strength and a beautiful appearance to your teeth. Dr. Cross can use custom-designed, high-quality crowns to replace old dental work or repair badly damaged or decayed teeth.  
The main goal of a smile makeover is always to improve both the health and beauty of your smile using the highest quality restorations and cosmetic treatments. When you choose OC Lifesmiles and Dr. Cross to help you achieve a dramatic smile transformation, you can rest assured that you will receive the highest level of individualized care that is always focused on your long-term satisfaction. 
What Is the Smile Makeover Process Like?
The first step in a smile makeover is a consultation with Dr. Cross. During your appointment, Dr. Cross will perform a thorough dental exam to evaluate your oral health and then carefully review any cosmetic concerns you may have about your smile. When patients come to Dr. Cross seeking a dental transformation, they are commonly interested in resolving the following types of aesthetic issues to achieve an enhanced smile:
Chipped, cracked, worn, or broken teeth
Misaligned or crowded teeth
Stained or discolored teeth
Missing teeth
Gaps between teeth
An uneven gumline
Dr. Cross can correct any or all of these issues by customizing a smile makeover treatment plan that combines the right procedures and treatments to give you a healthier, more beautiful smile. Using an advanced computer imaging system, he can create a redesigned image of your current smile to show you the kind of results you may be able to achieve with an individualized treatment plan. Should you decide to proceed with your smile makeover, this computer imagery will serve as the precise model for crafting any restorations or orthodontic devices necessary for accomplishing your goals. Each stage of your treatment will be highly customized and tailored to suit your needs.
What Do Smile Makeover Results Look Like?
Browse through our smile gallery to see examples of the beautiful smile makeovers Dr. Cross has created for his patients. The gallery contains before-and-after photos from a variety of smile transforming treatments. During your consultation, Dr. Cross can show you even more photos   to give you an idea of the results that may be possible with your specific treatment plan.
How Much Does a Smile Makeover Cost?
The price of your smile makeover will depend on a variety of factors, which can be assessed at your consultation. During this appointment, Dr. Cross will create your personalized smile makeover treatment plan, outlining the treatments that will be performed as well as the types and number of veneers or restorations that will be placed. At the end of your appointment, you will receive a detailed quote for the total cost of your treatment. If you have any questions about pricing, treatments, scheduling, financing options, making payments, or other topics, our knowledgeable team is happy to answer any of your questions.
Contact OC Lifesmiles for a Smile Makeover
For more information on our smile makeover treatments, or to schedule an appointment, please contact OC Lifesmiles today.