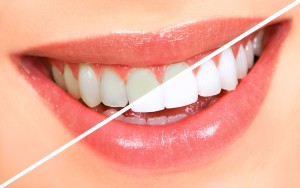 Clinical research and studies have shown that tooth whitening, when performed by a dental professional, is a safe, successful way to cosmetically improve the appearance of a smile. Many patients find the shade of their teeth discolored by coffee, wine, cigarettes, medication, or aging, and are looking for a lightening solution. To meet these requests, Dr. John Cross—our experienced cosmetic dentist—offers several teeth whitening options at our Orange County office. Our in-office treatment, Zoom!®, is an extremely fast and effective alternative to other products that you see on the market. You are probably familiar with the brilliant results produced by Zoom!® if you've watched the ABC® television show Extreme Makeover. Or, if you would like to lighten your teeth at home, we provide take-home kits with customized trays. These personalized trays can be used alone or after an in-office treatment to maintain those fabulous results. Read on for more information about in-office and at-home bleaching; if you would like a Zoom!® tooth whitening treatment, contact OC Lifesmiles today for an appointment.
Zoom!® Whitening

During a Zoom!® in-office tooth whitening treatment, we typically prepare the teeth with a gentle cleaning, and cover the surrounding gum tissue and skin for protection. We carefully coat the teeth in a hydrogen peroxide-based gel, and then aim a laser light at the teeth. The laser activates the hydrogen peroxide and helps it to penetrate the surface of the teeth. As the hydrogen peroxide breaks up, oxygen enters the enamel and dentin, breaking up stains and bleaching colored substances. The process lasts for about 45 minutes. Our doctors may recommend and supply the Zoom!® or Nite White® gel kits for an occasional touch up to keep teeth sparkling white.
The Benefits of an In-office Treatment
If you are a patient of OC Lifesmiles you may consider a Zoom!® tooth whitening treatment for the following reasons:
Dramatic results in as little as one hour: After only one hour in the dentist's chair, you will see the shade of your teeth improve considerably – up to eight shades!
Painless: no drilling, injections, or filing – just a careful application of the gel and the gentle beam of a laser light.
Relaxing, hands-off process: You can sit back and relax as we apply the bleaching gel and direct the laser light at your teeth.
Customized specifically for you: We can control the concentration of the gel to suit your needs and your desired results.
Can be performed as part of a "Smile Makeover": teeth whitening can emphasize the results of Invisalign® or another cosmetic dentistry option.
Take-home Trays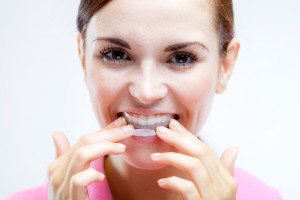 For individuals who prefer to whiten their teeth in the privacy of their own homes, we offer another option: customized take-home trays. The trays are crafted specially for the patient's mouth, and can easily be filled with the bleaching material for whitening at any hour of the day. Dr. Cross can provide more detailed instructions and recommendations for at-home bleaching during an appointment.
Frequently Asked Questions (FAQ) about Teeth Whitening
Many patients have questions about teeth whitening treatments we offer, so we have compiled some of the most common inquiries we receive and provided some helpful answers for those considering the procedure.
Are there a differences between over-the-counter teeth whitening products and professional teeth whitening treatments?
While there are over-the-counter whitening products available that can gradually lighten the shade of your teeth, these methods are often less effective and less efficient than professional treatments. The terms used on the labels of over-the-counter products can also be confusing. Products that claim to "whiten" the teeth may only eliminate debris from the tooth's surface, rather than lightening stains in the enamel. Products that claim "bleaching" properties must contain hydrogen peroxide or another active whitening agent; however, it is important to note that the active bleaching agents used with professional-grade treatments are typically much more powerful due to a higher concentration. This key difference can lead to dramatically whiter and brighter teeth over a much shorter period of time. Patients who choose professional-grade whitening also have the benefit of a dentist's supervision to help them select a whitening treatment suited to their individual needs.
Am I a good candidate for teeth whitening?
Professional teeth whitening can effectively diminish most types and degrees of dental staining and discoloration. Dr. Cross recommends that candidates address any pre-existing dental concerns, such as tooth decay or gum disease, before beginning a professional whitening treatment. Patients with severe stains or discoloration that may not respond well to bleaching may achieve better results with porcelain veneers, which can conceal the color of the tooth with a thin shell of porcelain. During your initial consultation, Dr. Cross will perform an oral exam and recommend the most appropriate treatment plan for meeting your unique needs and goals.
Is professional teeth whitening safe?
Under the supervision of an experienced dentist, professional whitening treatments can safely brighten your smile. While is is not uncommon experience tooth sensitivity during or shortly after treatment, this side effect is typically mild and dissipates quickly. Dr. Cross often combines teeth whitening with a fluoride treatment for extra protection against tooth sensitivity.
Will teeth whitening change the shade of my crowns, porcelain veneers, or fillings?
Porcelain veneers, crowns, and tooth-colored fillings are not typically impacted by whitening treatments. If you have dental work you are concerned about, your whitening treatment plan can be custom tailored to accommodate any unique challenges for a healthy, natural-looking smile.
How much does teeth whitening cost?
Depending upon which method of teeth whitening you choose, the price for your treatment can vary. At the end of your initial consultation, our treatment coordinator will provide you with a quote based upon your customized treatment plan.
For more information about teeth whitening treatments or any of the other cosmetic dentistry options we offer, please contact OC Lifesmiles for a consultation.