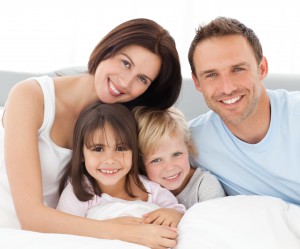 At OC Lifesmiles, you will discover an inclusive span of dental treatments and services for the entire family. Dr. John Cross, our experienced cosmetic dentist, offers state-of-the-art procedures that can be customized to help rejuvenate your smile, restore damaged or missing teeth, discreetly improve tooth misalignments, enhance your oral health, and do much more – all with beautiful, natural-looking results. For each and every patient, our team takes great joy in offering the highest quality of care in a friendly, comfortable environment. Should you or your loved one have any anxieties about visiting the dentist, we also provide various sedation dentistry techniques to help make treatment as pleasant as possible. Ultimately, Dr. Cross and our well-trained staff aim to achieve optimal health, aesthetics, and functionality for your teeth so you can leave our office with the utmost confidence in your smile!
To learn more about our full array of dental care options, we invite you to follow the links below. If you have any questions, or if would like to schedule an appointment at OC Lifesmiles, please do not hesitate to contact us today.
General and Preventative Care
From routine checkups and endodontics to gum disease treatments and oral cancer screenings, our comprehensive family dentistry options can help you resolve and prevent common dental issues that may compromise the health and appearance of your teeth and gums.
Learn More About Comprehensive Family Dentistry
Cosmetic Solutions
Teeth whitening, porcelain veneers, Invisalign®, and various other cosmetic dental solutions can improve such tooth imperfections as stains, chips, cracks, and misalignments for a brilliant smile and natural-looking, long-lasting results.
Learn More About Cosmetic Dentistry
Restorative Solutions
One or more missing/damaged teeth can be effectively restored and/or replaced with restorative solutions like porcelain crowns and bridges, dental implants, and implant supported dentures – sometimes in as little as a single office visit with CEREC® technology.
Learn More About Restorative Dentistry
Additional Treatments
Additional dental care options at OC Lifesmiles include treatments for TMJ Disorder (TMD), sleep apnea and snoring, as well as sedation dentistry techniques that can help alleviate dental anxieties for a more relaxed and comfortable treatment experience.