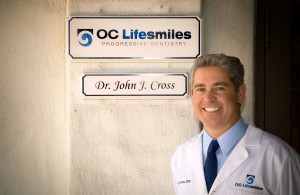 Dr. John Cross has been designing smiles since 1999. After growing up in Davis, California, he ventured south and earned his undergraduate degree at the University of California, San Diego. Returning to his roots in Northern California, he completed the D.D.S. program at the University of the Pacific in San Francisco. Dr. Cross's residency at the University of Southern California led him to become an associate at one of the leading cosmetic dentistry practices in Orange County. In January 2006, Dr. Cross purchased the practice, and is delighted to be working with his knowledgeable team at OC Lifesmiles.
Dr. Cross has taken thousands of hours of continuing education courses and has studied with the leading cosmetic dentists in the country. He is a sustaining member of the American Academy of Cosmetic Dentistry, Las Vegas Institute for Advanced Dental Studies, American Academy of General Dentistry, United States Dental Tennis Association, California Dental Association, and Orange County Dental Society. Dr. Cross is accredited in sedation dentistry, Zoom!® teeth whitening, and Invisalign®.
Dr. John Cross enjoys spending time with his wife, Sarah, and three small children, Jack, Katie and Julia. He and Sarah are avid tennis players. Dr. Cross has been playing tennis since childhood and has received several national rankings over the years.
Why Choose Dr. Cross for Your Cosmetic Dentistry Needs?
With more than 15 years of experience as a cosmetic dentist and an ongoing commitment to advancing his craft through extensive post-graduate education, Dr. John Cross is a superior choice for your dental care. At OC Lifesmiles Progressive Dentistry, Dr. Cross incorporates state-of-the-art technology, advanced dentistry techniques, and high-quality materials to create beautiful, long-lasting smiles for his patients. His artistic eye and dynamic skill allow him to develop highly customized treatment plans designed to dramatically improve the health, function, and aesthetics of the teeth and gums.
Whether you are looking to accomplish a cosmetic smile makeover, replace missing teeth, or rebuild a damaged smile, Dr. Cross offers a wide selection of world-class treatments, procedures, and restorations that can achieve your goals. In addition to performing all stages of the dental implant procedure, he provides quality porcelain veneers, same-day CEREC® restorations, and a variety of implant supported restorations, along with effective treatments for obstructive sleep apnea and TMJ disorders.
Dr. Cross is highly recommended by his patients, and many of them have shared their experiences in the form of written testimonials, video testimonials, and online ratings—Dr. Cross currently has top rated reviews on Google, Facebook, and Healthgrades. If you are considering Dr. Cross for your dental care, we encourage you to view examples of his work in our patient photo gallery and schedule a consultation to learn more about how he can help improve your smile. By scheduling an appointment, you will have the opportunity to meet Dr. Cross, discuss your dental concerns, and become more informed about current treatment options that may be right for you.