Meet Dr. John Cross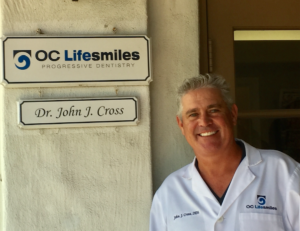 Dr. John Cross has been designing smiles since 1999. After growing up in Davis, California, he ventured south and earned his undergraduate degree at the University of California, San Diego. Returning to his roots in Northern California, he completed the D.D.S. program at the University of the Pacific in San Francisco. Dr. Cross's residency at the University of Southern California led him to become an associate at one of the leading cosmetic dentistry practices in Orange County. In January 2006, Dr. Cross purchased the practice, and is delighted to be working with his knowledgeable team at OC Lifesmiles.
Dr. Cross has taken thousands of hours of continuing education courses and has studied with the leading cosmetic dentists in the country. He is a sustaining member of the American Academy of Cosmetic Dentistry, Las Vegas Institute for Advanced Dental Studies, American Academy of General Dentistry, United States Dental Tennis Association, California Dental Association, and Orange County Dental Society. Dr. Cross is accredited in sedation dentistry, Zoom!® teeth whitening, and Invisalign®.
Dr. John Cross enjoys spending time with his wife, Sarah, and three small children, Jack, Katie and Julia. He and Sarah are avid tennis players. Dr. Cross has been playing tennis since childhood and has received several national rankings over the years.
What is a Cosmetic Dentist?
A cosmetic dentist is a dentist that has undergone specialized training in cosmetic and restorative dental procedures for the aesthetic and structural improvement of patients' teeth. Many cosmetic dentists—including Dr. Cross—further their skills and training throughout their career with continuing education coursework, which helps them to stay abreast of the latest trends, techniques, and technologies.
Why Choose Dr. Cross for Your Cosmetic Dentistry Needs?
With more than 15 years of experience as a cosmetic dentist and an ongoing commitment to advancing his craft through extensive post-graduate education, Dr. John Cross is a superior choice for your dental care. At OC Lifesmiles Progressive Dentistry, Dr. Cross incorporates state-of-the-art technology, advanced dentistry techniques, and high-quality materials to create beautiful, long-lasting smiles for his patients. His artistic eye and dynamic skill allow him to develop highly customized treatment plans designed to dramatically improve the health, function, and aesthetics of the teeth and gums.
Whether you are looking to accomplish a cosmetic smile makeover, replace missing teeth, or rebuild a damaged smile, Dr. Cross offers a wide selection of world-class treatments, procedures, and restorations that can achieve your goals. In addition to performing all stages of the dental implant procedure, he provides quality porcelain veneers, same-day CEREC® restorations, and a variety of implant supported restorations, along with effective treatments for obstructive sleep apnea and TMJ disorders.
Dr. Cross is highly recommended by his patients, and many of them have shared their experiences in the form of written testimonials, video testimonials, and online ratings—Dr. Cross currently has top rated reviews on Google, Facebook, and Healthgrades. If you are considering Dr. Cross for your dental care, we encourage you to view examples of his work in our patient photo gallery and schedule a consultation to learn more about how he can help improve your smile. By scheduling an appointment, you will have the opportunity to meet Dr. Cross, discuss your dental concerns, and become more informed about current treatment options that may be right for you.
Questions to Ask Your Cosmetic Dentist
If you are in the process of researching and selecting a cosmetic dentist, it can be helpful to go to your consultation with a list of prepared questions. Your dentist's answers should help you decide if he or she is the right fit for addressing your dental needs and achieving your goals:
Do you participate in continuing education courses? Cosmetic dentists who regularly complete continuing education coursework offered by esteemed institutions—like the Las Vegas Institute for Advanced Dental Studies (LVI)—or leading dentists in the field are typically more well-versed in the latest cosmetic and restorative techniques. This state-of-the-art knowledge and experiential learning can often lead to higher-quality results that last longer and look more natural.
Are you a member of the American Academy of Cosmetic Dentistry (AACD)? Cosmetic dentists who are members of AACD demonstrate a strong commitment to advancing the practice of cosmetic dentistry and upholding the highest standards of excellence, ethics, and patient care. Members of this elite group are considered to be among the best of the best in cosmetic dentistry. AACD also provides access to outstanding continuing education opportunities.
Which cosmetic dentistry options can help me achieve the healthy, beautiful smile I want? Learn about all of the cosmetic options your dentist offers and ask questions about the benefits and drawbacks of each approach.
Do you use high-quality materials for restorations and cosmetic enhancements? Customized porcelain and ceramic are considered to be the strongest, most aesthetically pleasing materials for creating dental restorations. Dental crowns, veneers, bridges, implant restorations, inlays, and onlays can all be manufactured using these long-lasting materials. There are variations in quality, convenience, and aesthetics (i.e. hand-made vs. CEREC®/machine-made or e.max® vs. zirconia), which an experienced cosmetic dentist should be able to explain to you. He or she may also offer more affordable options, such as composite resin, for emergency repairs, temporary applications, or lower-cost cosmetic treatments.
Can I see before-and-after photographs of your work? Viewing examples of your dentist's work is an excellent way to determine if they are capable of achieving the results you want. Make sure to ask for pictures that relate to the procedure you are considering.
What kind of advanced technology do you offer that I can benefit from? Innovations in dental technology are designed to improve diagnosis, procedural planning, treatment execution, patient comfort, and/or final outcomes. Cosmetic dentists who are highly trained and demonstrate expertise in state-of-the-art dental technology may be able to deliver a higher quality overall experience and better results.
Will I be comfortable during treatment? For most patients, comfort during dental treatment is a high priority. Ask your cosmetic dentist about the anesthetic techniques they use and sedation dentistry options they offer to prevent discomfort and help patients relax.
We encourage patients who are interested in achieving high-quality, long-lasting results with cosmetic dentistry to contact OC Lifesmiles and schedule consultation with Dr. Cross. During this one-on-one appointment, Dr. Cross has the opportunity to answer all of your questions, evaluate your dental concerns, and recommend an effective treatment plan for attaining the healthy, beautiful smile you desire.