What Are Dental Crowns?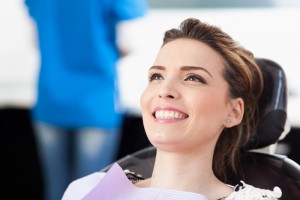 Dental crowns are versatile, durable restorations which are placed over vulnerable teeth to enhance their appearance, protect them from further damage, or perform a combination of both goals. They can be placed individually or incorporated into a number of cosmetic and restorative procedures, such as the application of dental implants or bridges.
Using state-of-the-art CEREC® technology, John Cross, DDS – our experienced cosmetic dentist – can craft as many CEREC® crowns as you need, all of which provide optimal support and are designed to seamlessly match the rest of your teeth. Dr. Cross and our team at OC Lifesmiles are devoted to building the sturdiest, most aesthetically-pleasing crowns possible to improve your oral health.
What Is CEREC®?
CEREC® (Chairside Economical Restoration of Esthetic Ceramics) technology produces one-visit restorations for cosmetic and restorative dentistry patients who want to avoid multiple appointments, temporary restorations, and waiting weeks for their crown or porcelain veneers. CEREC® technology eliminates the need for traditional dental impressions and the assistance of a dental lab, allowing Dr. John Cross to complete all stages of the restoration process in our office during the span of one appointment. We care about providing patients with convenient, advanced treatment options, and that's why we are proud to offer CEREC® at OC Lifesmiles. CEREC® can produce high quality, all-ceramic restorations, including veneers, crowns, bridges, inlays, and onlays.
What Are the Benefits of CEREC® Crowns?
CEREC® crowns can offer our patients several significant benefits:
Same day tooth preparation and placement
Crowns are custom-crafted from precise 3D dental scans
High quality, all-ceramic restorations
Durable, natural-looking results
Restorations that are virtually indistinguishable from lab-made products
What Does the CEREC® Crowns Process Involve?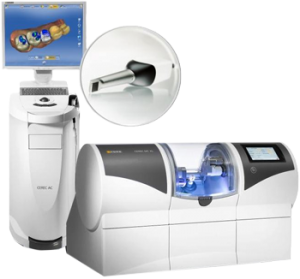 Our Orange County cosmetic dentist, John Cross, DDS, prepares the tooth needing a crown by removing damaged tooth tissue or decay. He then takes digital impressions of the teeth through an infrared camera, which imports the impressions to the CEREC® 3D software. Using the planning software and images of your teeth, Dr. Cross designs your crown in minutes. The design is sent to the milling unit – also located in our office – which crafts the custom restoration, while you wait comfortably in our office. When it is ready, Dr. Cross will place the crown in your mouth and examine it for the fit and feel. Once any last minute adjustments have been made, you can walk out of our office with your fully completed restoration in place!
How Much Do Dental Crowns Cost?
According to RealSelf, the average cost of a dental crown in Orange County ranges from $700 to $2000; however, this average does not take CEREC® technology or materials into account. The cost of your dental crown process is also contingent upon the number of teeth being treated, the location of the teeth, and a number of other factors.
At OC Lifesmiles, we customize the price of each treatment to meet the needs of the patient. Dr. Cross can provide you with a price estimate following your initial consultation. Meanwhile, we invite you to explore our many payment options. We proudly accept several insurance plans and payment methods. Additionally, we work with CareCredit®, a trusted third-party lender with options to help eligible patients pay for their procedure through installments.
For more information regarding payment, please do not hesitate to contact our staff.
Frequently Asked Questions About CEREC® Crowns
Since CEREC® is such an exciting technology, patients sometimes have questions to better understand the treatment process and the results the system can produce. We would like to share answers to some of the most commonly asked questions here:
Q: Are CEREC® crowns as strong as lab-made crowns?
A: Yes, absolutely. CEREC® restorations are milled from some of the strongest, most durable, all-ceramic composite materials in dentistry. Sirona, the makers of CEREC®, and other ceramics companies offer a wide array of ceramic materials for use with the CEREC® system, giving dentists a vast assortment of options to choose from when creating restorations for their patients.
Q: Are dental crowns covered by insurance?
A: While most insurance plans will at least partially cover CEREC® crowns for restorative purposes, the exact amount of coverage will depend upon the carrier, the number of crowns needed, and other important factors. At OC Lifesmiles, we accept several different dental insurance plans and would be glad to communicate with your provider to help you figure out your options.
Q: Will my CEREC® crown resemble a natural tooth?
A: Yes. The color of your new restoration will be precisely shade-matched to your existing tooth or surrounding teeth. Furthermore, the design and fit of your restoration is computer-generated using exact 3D images of your teeth and advanced software programs to create a natural shape and detail that blends in seamlessly with your smile.
Q: Can you whiten dental crowns?
A: Like other advanced CEREC® restorations, our dental crowns cannot be whitened; however, they are designed to match the unique shade of your teeth to give off a healthy, white glow. Furthermore, you can help your crowns retain their lifelike shine by maintaining excellent oral health (i.e., brushing at least twice a day, flossing, and attending your regular dental exams and cleanings).
Q: Do all dentists produce the same results using CEREC?
A: No. The training, skill, and experience the dentist has with the CEREC® system will have a tremendous influence on the results he or she is able to achieve. Dr. Cross has been extensively trained in all aspects of the CEREC® system, from capturing the most accurate digital images to designing, milling, and placing natural-looking restorations.
Contact OC Lifesmiles
For more information on our same day crowns and restorations, or to schedule an appointment, please contact OC Lifesmiles today.