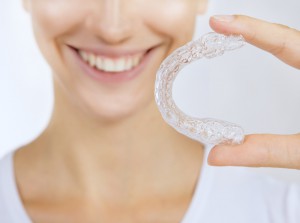 If you dream of permanently straightening your teeth, but balk at the thought of bands, brackets, and wires, OC Lifesmiles offers an appealing alternative: Invisalign® clear aligners. Invisalign® is an orthodontic innovation which comfortably and discreetly aligns the teeth and bite. Cosmetic dentist John Cross, DDS works very closely with skilled orthodontists to both plan your treatment and monitor your progress. If you'd like to learn more about Invisalign®, also known as "clear braces," contact our practice today.
The Invisalign® Treatment Process

Meant to correct problems like overbites, underbites, crossbites, crowding, and unevenly spaced teeth, Invisalign® uses a series of removable, plastic aligners to gently shift teeth into place. The process starts with an examination and impressions of your teeth and bite. An advanced 3D computer imaging system will design a treatment plan as well as a series of aligners for you to wear during treatment. You will wear each set for two weeks at a time before switching to the next. Based on the advice of trusted orthodontists, you should wear your aligners for 20 to 22 hours per day, removing them to eat, drink, and clean your teeth/gums. Your teeth will move, slowly but consistently, into the correct alignment, eliminating gaps and spaces. We can provide more information and answer your questions about the Invisalign® clear braces technique when you visit our practice. Contact us to set up an appointment.
Benefits to Invisalign®
Many patients opt for treatment with Invisalign® because:
The aligners are virtually invisible. Most people won't be able to tell that you are even wearing them!
Your aligners are custom-created specifically for your teeth and bite, so you can achieve maximum results in a short amount of time.
Treatment is convenient, since you can remove the aligners at any time. Although the orthodontists we work with don't recommend leaving your aligners out for too long, removing them for meals, cleaning, and special occasions is not a problem.
Since they are removable, it's easy for patients to thoroughly brush and floss, which is crucial to preventing cavities and gum disease.
The length of treatment is significantly shorter than that of traditional metal braces. Some of our Invisalign® patients from Orange County achieve their desired results after only six months – although this is not typical for everyone.
AcceleDent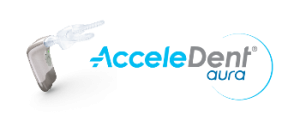 To help expedite your orthodontic treatment, a device called AcceleDent® can be used. While your prescribed Invisalign® clear aligner is in place, simply fit the AcceleDent® mouthpiece around the orthodontic appliance, bite down gently, and activate the device. The AcceleDent® uses gentle vibrations called SoftPulse™ technology to help accelerate the gradual tooth movement caused by Invisalign®. Many patients have achieved straighter teeth up to 50% faster than they would have without the device. To reduce your orthodontic treatment time, AcceleDent® should be used for 20 minutes every day, in conjunction with your Invisalign® treatment. To learn more about how AcceleDent and Invisalign® can help you straighten your teeth quickly, please contact us today.
Contact Us for Invisalign® Treatment
If you are looking for Invisalign® "clear braces" treatment, contact OC Lifesmiles today to set up a consultation.