If you dream of permanently straightening your teeth, but balk at the thought of bands, brackets, and wires, OC Lifesmiles offers an appealing alternative: Invisalign® clear aligners. Invisalign®is an orthodontic innovation which can comfortably and discreetly align the teeth and bite. Cosmetic dentist John Cross, DDS works very closely with skilled orthodontists to both plan your treatment and monitor your progress. If you'd like to learn more about Invisalign®, also known as "clear braces," contact our practice today.
What Is Invisalign®?

Meant to correct problems like overbites, underbites, crossbites, crowding, and unevenly spaced teeth, Invisalign® uses a series of removable, plastic aligners to gently shift teeth into place. The patient will wear one set of aligners for about two weeks, and then switch to the next set in the series. Each set of aligners is modified to allow for a gradual repositioning of the teeth until optimal results are achieved. When compared to traditional braces, Invisalign® offers both adults and teens a way to improve common orthodontic concerns in a much less noticeable way.
What Are the Benefits of Invisalign®?
Many patients opt for treatment with Invisalign® because:
The aligners are virtually invisible. Most people won't be able to tell that you are even wearing them!
Your aligners are custom-created specifically for your teeth and bite, so you can achieve maximum results in a short amount of time.
Treatment is convenient, since you can remove the aligners at any time. Although the orthodontists we work with don't recommend leaving your aligners out for too long, removing them for meals, cleaning, and special occasions is not a problem.
Since they are removable, it's easy for patients to thoroughly brush and floss, which is crucial to preventing cavities and gum disease.
The length of treatment is significantly shorter than that of traditional metal braces. Some of our Invisalign® patients from Orange County achieve their desired results after only six months – although this is not typical for everyone.
Invisalign® Vs. Braces
There are a number of distinctions between Invisalign® and traditional braces. While both offer effective ways to correct common orthodontic concerns, Invisalign® is designed to provide patients with an altogether different treatment experience. The brackets and wires that compose braces can successfully improve the positioning of the teeth, but can also uncomfortably press into soft oral tissues. Invisalign® relies on clear, plastic aligners rather than wires and brackets to achieve optimal results. Plus, while braces often come in clear or ceramic varieties to minimize their visibility, the fact is that they are often still noticeable. Invisalign® aligners are so clear that it is unlikely others will see them, even when you are showing off your biggest smile. In addition, when compared to braces, Invisalign® often takes much less time to achieve successful outcomes.
For patients who have more severe or complex orthodontic problems, traditional braces may be the better alternative. However, Invisalign® has been successfully utilized as a primary orthodontic treatment for many individuals, and it has proven to be effective for a wide array of concerns. Our dentist will be happy to evaluate your needs and talk with you about the option that can best fulfill your goals.
Am I a Candidate for Invisalign®?
Many individuals are candidates for Invisalign®. This treatment may be an ideal procedure if you currently have mild to moderate signs of:
Teeth misalignment – teeth that are crowded and "bunched up" in certain areas of the mouth; gaps and spaces between the teeth
Bite issues – overbite, crossbite, open bite, or underbite
Inadequate space in the mouth – lack of room to accommodate future treatments such as dental implants or tooth restorations
Once you arrive for your initial consultation, our dentist will perform an oral evaluation and talk with you about your options. If Invisalign® can help you meet your needs, Dr. Cross will create a customized treatment plan designed to renew your smile with beautiful results!
What Does the Invisalign® Treatment Process Involve?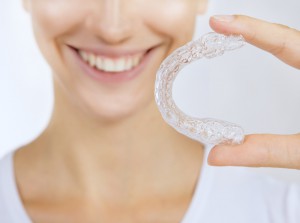 The Invisalign® treatment process starts with an examination and impressions of your teeth and bite. An advanced 3D computer imaging system will design a treatment plan as well as a series of aligners for you to wear during treatment. You will wear each set for two weeks at a time before switching to the next. Based on the advice of trusted orthodontists, you should wear your aligners for 20 to 22 hours per day, removing them to eat, drink, and clean your teeth/gums. Your teeth should move, slowly but consistently, into the correct alignment, eliminating gaps and spaces.
We can provide more information and answer your questions about the Invisalign® clear braces technique when you visit our practice. Please don't hesitate to contact us to set up an appointment.
Does Invisalign® Hurt?
Since Invisalign® does not rely on brackets and wires, this treatment is known to provide a more comfortable option for patients who would like to improve common orthodontic issues. Most individuals will experience some pressure or soreness at first; however, this should only be temporary, and typically dissipates within a few days as the mouth continues to adjust to the aligners. Over-the-counter pain medication can often alleviate these effects until they fade on their own.
How Do I Clean My Invisalign® Aligners?
Caring for your Invisalign® plastic aligners is an easy process and doesn't take much time at all. Simply scrub the aligners with a toothbrush to keep them clean (please be sure that the water is warm but not hot—higher temperatures may warp their shape). Washing the aligners with antibacterial soap can clean them more thoroughly. If you utilize this method, make sure you give them a good rinse before placing them on the teeth again.
How Can AcceleDent® Speed Up My Invisalign® Results?
To help expedite your orthodontic treatment, a device called AcceleDent® can be used. While your prescribed Invisalign® clear aligner is in place, simply fit the AcceleDent® mouthpiece around the orthodontic appliance, bite down gently, and activate the device. The AcceleDent® uses gentle vibrations called SoftPulse™ technology to help accelerate the gradual tooth movement caused by Invisalign®. Many patients have achieved straighter teeth up to 50% faster than they would have without the device. To reduce your orthodontic treatment time, AcceleDent® should be used for 20 minutes every day, in conjunction with your Invisalign® treatment.
How Long Does Invisalign® Take?
The length of treatment necessary for Invisalign® to yield the best results ultimately depends on each individual's orthodontic needs and goals. With that in mind, many patients are able to complete the treatment in 9 to 15 months. To ensure that optimal results are achieved as quickly as possible, it is important to wear the aligners as often as directed.
Are There Alternatives to Invisalign®?
If Invisalign® is not the ideal treatment for your needs and goals, an alternative such as porcelain veneers may be a more suitable option. Porcelain veneers are customized tooth restorations that can address misalignment issues such as spaces and gaps between the teeth. Designed to cover the front part of the teeth and meticulously crafted to provide natural-looking results, veneers can hide the appearance of gaps and give the teeth a straighter appearance. Porcelain veneers directly address specific areas of the teeth affected by mild to moderate misalignment issues and the procedure does not require patients to undergo ongoing orthodontic treatment. During your initial examination, our dentist can talk with you about whether Invisalign® or another treatment option is best for your goals.
How Much Does Invisalign® Cost?
The total cost of Invisalign® varies among patients. Since the treatment plan is customized, factors such as the complexity of the orthodontic concerns being addressed, the number of aligners required to achieve the best outcome, and other components will be taken into account. The manufacturer of Invisalign® has estimated the average price of the treatment to be in the neighborhood of $3000-$8000; however, it's important to remember that this is a very broad range and will ultimately depend on the individual treatment plan. It should also be noted that many insurance plans offer partial coverage for orthodontic procedures. A member of our dental team will produce a total cost estimate once your Invisalign® treatment program is developed. They will go over all of your options and answer any questions you may have about insurance or the many payment methods we accept here at OC Lifesmiles. If you are interested in paying for your procedure over time, our office works with CareCredit®, a reputable dental financing company that offers an array of convenient monthly payment plans for qualified applicants.
Additional Frequently Asked Questions About Invisalign®
Are Invisalign® Aligners Completely Invisible?
Invisalign® aligners are designed to be as discreet as possible. Made from a clear plastic material, the aligners are an incredible improvement upon traditional braces in terms of visibility. If someone very closely examines your teeth they may be able to notice that the aligners are present; however, in most cases, they are extremely see-through and are difficult, if not impossible, to see by others.
What Can I Eat and Drink with Invisalign®?
Unlike with traditional braces, you will have very few (if any) diet restrictions with Invisalign® since the aligners can be easily removed when consuming foods and beverages. In fact, it is recommended to temporarily take them out before eating and drinking, which can help you avoid any damage or staining to the aligners. Additionally, cleaning your teeth thoroughly before putting your aligners back on can help reduce any food particles from lingering and becoming stuck within the appliances.
Will I Need to Wear a Retainer After Invisalign®?
In most cases, patients are instructed to wear a retainer after their Invisalign® treatment is complete. By wearing a retainer, you can help optimize your results and ensure they are maintained. Ultimately, the retainer can help keep your teeth in their new position. For many individuals, the retainer will eventually only need to be worn while sleeping.
Will Invisalign® Affect My Speech?
There will likely be a brief adjustment period during the first few days of wearing your initial set of aligners. While this occurs, your speech may be affected by a slight lisp. You are encouraged and instructed to practice speaking as much as possible while wearing your aligners to get used to them. Once you have acclimated to wearing them, your speech should return to normal.
If you are considering Invisalign® "clear braces" treatment, please contact OC Lifesmiles today to set up a consultation. We look forward to helping you renew your smile!