What Is Full Mouth Restoration?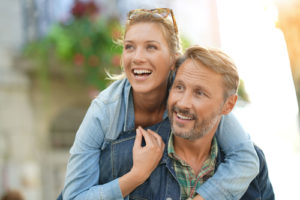 A full mouth restoration treatment plan includes a combination of effective restorative and cosmetic procedures designed to address oral health concerns, compromised dental structure, and cosmetic imperfections. In most cases, full mouth rehabilitation candidates have several dental issues they would like to fix in a consolidated period of time, such as:
Tooth decay
Periodontal (gum) disease
Broken or missing teeth
Tooth misalignment
Cracked or chipped teeth
Dental stains and tooth discoloration
With full mouth restoration services, cosmetic dentist John Cross, DDS can restore optimal dental health and a full, natural-looking smile. Many of our patients experience a boost in confidence after their rehabilitation is complete and are proud to reveal their beautiful new smile.
What Can Full Mouth Restoration Accomplish?
A full mouth restoration can have a multitude of benefits, depending on your individual goals; however, here are some of the most common improvements that can be accomplished:
Replacement of missing teeth
Repair of chipped or cracked teeth
Restored oral health (addressing periodontal disease)
Correction of tooth discoloration
Improvement of misaligned, crowded, and/or gapped teeth
Reinforcement of injured, damaged, or decayed teeth
What Are My Full Mouth Restoration Options?
The details of your full mouth reconstruction plan depend upon your unique dental health needs and cosmetic goals. A treatment plan designed to achieve full mouth rehabilitation may include:
Root Canal Therapy: For teeth that have significant damage or decay, root canal therapy may be required to eliminate infection and save the tooth. Once the tooth is cleaned and sealed, Dr. Cross restores the tooth with a custom dental crown.
Laser Therapy: State-of-the-art dental lasers can treat gum disease with extreme precision, fighting bacterial infection below the gum line and closing large gingival pockets that can develop around the teeth.
Dental implants: Dental implants are considered the gold standard for replacing a missing or severely damaged tooth. Secured by a titanium post implanted in the jawbone, the firmly attached dental implant crown is able to function much like a natural tooth.
Porcelain veneers: These thin shells of porcelain can be affixed to the front side of each tooth to conceal a wide array of cosmetic imperfections including chipped, gapped, stained, worn, and/or misaligned teeth. The shape, size, and color of each porcelain veneer is highly customized to blend naturally with the surrounding teeth and create a beautiful smile.
Porcelain crowns: For teeth that are structurally damaged due to trauma or decay, porcelain crowns can be used to reinforce and preserve the remaining portion of a natural tooth body. Using CEREC® technology, Dr. Cross can complete the tooth preparation process, restoration fabrication, and porcelain crown placement within a single office visit.
Implant-supported dentures: Implant dentures are an innovative alternative to traditional removable dentures that offers unparalleled stability and eliminates denture slippage. These dentures are locked in place by strategically placed dental implants. Implant-supported dentures can replace an entire arch of teeth with beautiful, natural-looking results.
What Are the Steps of a Full Mouth Restoration?
During the initial consultation, Dr. Cross will perform an oral exam, discuss your goals and expectations, and recommend the combination of dental procedures that can meet your needs. Once you have selected the options that are right for you, Dr. Cross will design a customized treatment plan and schedule the start of your care. Depending upon the condition of your oral health and reconstructive needs, your full mouth restoration treatment plan may require multiple office visits to complete. At the end of your preliminary consultation, Dr. Cross will provide you with a timeline for your treatment.
How Much Does a Full Mouth Restoration Cost?
Dr. Cross custom-tailors each full mouth rehabilitation treatment plan according to the unique needs of the patient. As a result, the cost of a full mouth restoration can vary from case to case. The type of dental services you require, the severity and complexity of your dental issues, laboratory fees for restorations, and any sedation costs will impact the total price. Dr. Cross will provide you with an accurate quote at the end of the consultation process. It is possible that some portion (or all of) your treatment may be covered under your dental insurance plan. For qualified patients interested in affordable dental financing, OC Lifesmiles offers low to no-interest loans through a third-party company called CareCredit®.
Why Should I Choose OC Lifesmiles for Full Mouth Restoration?
At OC Lifesmiles, we use the latest technology, as well as high-quality materials to ensure your full mouth restoration is customized to your individual needs, while also providing you with a long-lasting, beautiful smile. The durable materials used in our restorations provide patients with improved form and function and natural-looking results that blend seamlessly with existing teeth. It is of the utmost importance to Dr. Cross that he gets to know each of his patients, helping him to better understand their concerns and aesthetic goals, as well as provide exceptionally personalized care. Additionally, through the use of CEREC®, we are often able to provide patients with same-day restorations, ultimately minimizing or eliminating the need for multiple visits to complete your full mouth restoration.
Additional Questions About Full Mouth Restoration
How long will the full mouth restoration process take?
Depending on your individual case, a full mouth restoration can be completed in as little time as a single visit to our office, but may require multiple visits if extensive dental care is needed to achieve the desired result. If requested, sedation dentistry techniques can be used during the process, to help make the experience more comfortable — this can be particularly beneficial if you experience dental anxiety and/or have a complex case. Once Dr. Cross has created your personalized treatment plan, he can provide you with more detailed information about which treatments will be utilized, as well as how long it will take to complete your full mouth restoration.
Are my teeth and oral health too damaged for full mouth restoration?
Full mouth restoration is designed to correct a wide variety of oral health issues and restore form and function to missing or damaged teeth. Regardless of how many dental concerns you may have, Dr. Cross can create a treatment plan that addresses each issue, ultimately enhancing the health and appearance of your teeth and mouth.
Is full mouth restoration painful?
Due to the highly customizable nature of full mouth restoration, each case will be unique; however, Dr. Cross ensures comfort for each of his patients through the use of local anesthetic and/or sedation dentistry. Following your full mouth restoration, you may be prescribed pain medication, but oftentimes an over-the-counter medication can be sufficient for mitigating any discomfort during the recovery process.
How long will my full mouth restoration results last?
At OC Lifesmiles, we use high-quality, durable materials for restorative dentistry, ensuring long-lasting results for our full mouth restoration patients. Additionally, through his skill and experience, Dr. Cross is able to provide patients with unparallelled outcomes, allowing them to enjoy their beautiful and healthy smile for years to come.
Are you considering transforming the health and appearance of your smile with full mouth reconstruction treatments? If so, we encourage you to contact OC Lifesmiles to schedule a consultation with Dr. Cross, our experienced dentist.