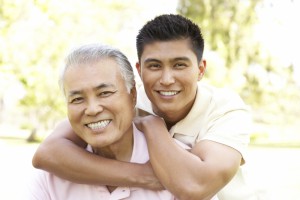 Everyone at OC Lifesmiles Progressive Dentistry understands how frustrating it can be to have a lackluster smile due to missing teeth. That is why we will do everything in our power to enhance your smile. Dental implants are a popular restorative procedure that can permanently replace missing teeth. Cosmetic dentist John Cross, DDS uses state-of-the art technology to personalize the size, shape, and color of your dental implants so they can blend in seamlessly with your teeth. In comparison to dentures, dental implants are unable to move or slip along your gumline since they are permanently rooted into your jawbone.
Dental Implant Procedure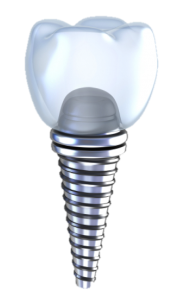 Dr. Cross offers a full dental implant procedure to replace the gaps in your smile caused by missing teeth. If he decides you are a good candidate for dental implants during your consultation, he will explain the procedure and answer your questions.
On the day of your procedure Dr. Cross will place the implant post into your jawbone. This will serve as a strong anchor for a permanent dental crown. Once the implant has been placed, it will need to go through a process called osseointegration, which entails the fusion of the implant to the jawbone. This makes the implant a permanent part of your mouth – just like your natural teeth. Osseointegration can take a few months for the best results; however, Dr. Cross can place a temporary crown on the implant during this period. He will recommend what to eat and drink after the procedure to help the healing process.
After the implant is secure, Dr. Cross will have the customized dental crown created. The dental crown will be designed to blend in with your teeth with results that look and feel natural. We will arrange periodic check ups with our office after the dental implant procedure to monitor your progress.
Dr. Cross can also create implant supported dentures or bridges if you need to replace multiple teeth. Our practice offers a variety of missing teeth replacement options to help you meet your needs with beautiful, long-lasting results.
Benefits of Dental Implants
Dental implants can give you a stunning smile without the need for old-fashioned dentures. Here are some of the benefits of using this treatment to restore your smile:
It's secure and won't move or slip inside your mouth like dentures
The porcelain is color-matched and polished to match your teeth perfectly
Dental implants can make your face appear smoother, fuller, and younger
They can improve your ability to chew, bite, and speak properly
Implants are more comfortable than dentures
You can continue your usual oral hygiene habits since no special maintenance is required
Contact Us for Your Dental Implants
If you would like more information about dental implants or other restorative dentistry options, please contact our practice. Dr. John Cross can develop a treatment plan with this innovative treatment to give you an amazing new smile.