At OC Lifesmiles, we offer advanced cosmetic dentistry solutions and take advantage of the latest innovations in the field of dentistry. While other dental practices may use traditional veneers that can look bulky or thick when placed on the tooth, we use ultra-thin, state-of-the-art veneers to deliver natural-looking results. Our cosmetic dentist, John Cross, DDS, chooses to work with high-quality DURAthin® porcelain veneers and relies on his extensive training and technical skill to create beautiful, long-lasting smile transformations.
What are Porcelain Veneers?
Porcelain veneers are thin sheaths of ceramic material that firmly adhere to the surface of the teeth to instantly improve the appearance of small, stained, misaligned, damaged, or worn teeth. Veneers can mask chips and cracks, improve the color and shape of teeth, and close small spaces between teeth for a beautiful smile.
What are the Benefits of Porcelain Veneers?
Unlike traditional veneers, DURAthin® porcelain veneers are a "no prep" product, preserving the original structure of your tooth. Porcelain veneers can be used to address a wide array of common aesthetic tooth concerns, including:
Chips and cracks
Stains and discolorations
Gaps between teeth
Worn down or uneven teeth
Since the natural tooth is still completely intact, an additional benefit of this procedure is that you have the option of removing the veneers in the future. After application, your DURAthin® veneers are slightly buffed for a natural, beautiful shine.
Who is a Candidate for Porcelain Veneers?
Candidates for porcelain veneers typically wish to correct the appearance of chips, cracks, stains or discoloration, spaces or gaps, and "short" or worn teeth. In some cases, veneers can even be used to correct mild misalignment. While other treatments, such as teeth whitening or Invisalign®, may address some of these concerns individually, porcelain veneers are ideal for patients who need to address a number of dental issues simultaneously. Some patients choose to use porcelain veneers as part of a larger smile makeover treatment.
Do I Need Porcelain Veneers or Crowns?
Porcelain crowns and veneers can be used to correct many of the same tooth imperfections. However, porcelain crowns are primarily designed to strengthen the structure of a tooth that has been compromised by damage or decay. Conversely, porcelain veneers are primarily designed to improve the appearance of the teeth. During the consultation process, Dr. Cross will perform an oral examination, discuss your goals, and help determine which procedure can best meet your needs.
What Happens During the Porcelain Veneers Procedure?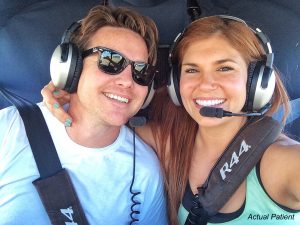 Though dentists typically prepare natural teeth for veneers by removing a portion of sensitive tooth enamel, our DURAthin® veneers require no drilling, injections, or anesthesia to prep the tooth. Typically, DURAthin® veneers require only minimal tooth "prep". Depending upon the patient's dental needs and cosmetic goals, sometimes the veneers procedure can even be completed without local anesthetic or tooth preparation. Our patients typically report very little discomfort and no pain during the veneers procedure. Dr. Cross can simply slip on the contact lens-thin veneer, using a strong dental adhesive to bond it to the tooth.
What Results Can I Expect after Porcelain Veneers Placement?
DURAthin® porcelain veneers are custom-made and designed to match the shade of your natural teeth for a beautiful, consistent appearance. Since the porcelain material used to make the veneers has translucent properties, the final results can be virtually identical to the appearance of dental enamel. Porcelain veneers are designed to provide a natural-looking, youthful, beautiful smile. To see examples of results, we invite you to explore porcelain veneer before-and-after photos featuring our OC Lifesmiles patients.
How Long Will My Porcelain Veneers Last?
Porcelain veneers can last for decades when cared for properly. Maintaining good oral hygiene habits and scheduling routine exams with your dentist can help prolong the lifespan of your veneers. Dr. Cross also recommends patients who grind or clench their teeth wear a night guard when they sleep to protect the veneers from unnecessary damage.
How Much Do Porcelain Veneers Cost?
There is no set cost for the porcelain veneers procedure. The price of veneers is calculated using a number of variables, including the location of the affected teeth and the number of veneers needed. At the end of the consultation process, Dr. Cross can give you a quote for the cost of porcelain veneers. At OC Lifesmiles, we offer a number of financing options to provide patients with payment methods that can comfortably fit within their budget.
Contact Us
If you are interested in improving the appearance of your smile with porcelain veneers, contact our practice to schedule a consultation with Dr. Cross.