Dental implants are designed to replace missing teeth and can fully restore functionality with beautiful, natural-looking results. Since dental implants do not require additional maintenance outside of your routine oral hygiene practice, most of our patients at OC Lifesmiles find this innovative restorative dentistry procedure the ideal solution for missing teeth. During the consultation process, cosmetic dentist John Cross, DDS will perform an oral exam, review your medical history, and discuss your personal goals, allowing you to make a well-informed decision about your oral health.


Am I a good candidate for dental implants?
Whether you are missing a single tooth, several teeth, or if you are looking for a more natural and convenient alternative to traditional dentures, dental implants can rejuvenate your smile and restore both form and function to your teeth. Ideal dental implant candidates will have good overall health, healthy gum tissue, a fully developed jawbone, and sufficient jawbone density to receive the implant. Patients who take medications that can complicate the healing process, as well as those who suffer from certain health conditions and individuals who are undergoing radiation or chemotherapy, may not be good candidates for this surgery. Our dentist can recommend alternatives for patients who are not candidates for dental implants.
Are you missing one tooth?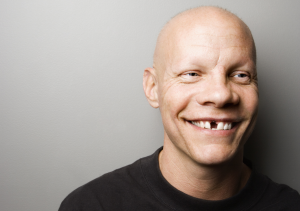 If you have a gap in your smile due to a missing tooth, a dental implant can provide a long-term solution, protecting the adjacent teeth from shifting and reducing oral health risks. While other solutions may require the adjacent teeth to be ground down, a dental implant can replace a missing tooth without impacting the surrounding teeth. The results should look and feel completely natural. In fact, many of our patients forget they have an artificial tooth altogether, since a dental implant becomes a permanent part of your mouth the way a natural tooth would function.
Are you missing several teeth?
Missing several teeth is a more serious health concern. As a result of the gap or gaps left behind, there is a risk for the structure of your face to change (facial collapse). While partial dentures can prevent these changes from occurring, some patients find partial dentures uncomfortable. In addition, partial dentures must be attached to the adjacent teeth, causing wear and tear to these natural teeth while also increasing the risk of decay at the point of attachment. Dental implants preserve your natural teeth and offer a more comfortable, secure alternative.
Are you missing all of your teeth?
Many of our patients who desire a full set of dental implants have been living with traditional dentures for years. For patients who are tired of messy pastes and adhesives, slippage, and overall discomfort, dental implants can transform the look, feel, and function of the teeth. The titanium posts that serve as artificial roots can provide unparalleled stability while the handcrafted porcelain crowns that are affixed to them are designed to appear natural to the eye. For patients who desire dental implants but lack sufficient bone density to undergo the procedure, bone grafting can occasionally be performed to facilitate a future dental implant surgery. We also offer implant supported dentures.
Contact Us
To schedule a consultation with Dr. Cross, or to learn more about dental implants, please contact our office today.