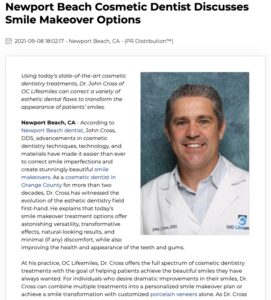 Using today's state-of-the-art cosmetic dentistry treatments, Dr. John Cross of OC Lifesmiles can correct a variety of esthetic dental flaws to transform the appearance of patients' smiles.
Newport Beach, CA – According to Newport Beach dentist, John Cross, DDS, advancements in cosmetic dentistry techniques, technology, and materials have made it easier than ever to correct smile imperfections and create stunningly beautiful smile makeovers. As a cosmetic dentist in Orange County for more than two decades, Dr. Cross has witnessed the evolution of the esthetic dentistry field first-hand. He explains that today's smile makeover treatment options offer astonishing versatility, transformative effects, natural-looking results, and minimal (if any) discomfort, while also improving the health and appearance of the teeth and gums.
At his practice, OC Lifesmiles, Dr. Cross offers the full spectrum of cosmetic dentistry treatments with the goal of helping patients achieve the beautiful smiles they have always wanted. For individuals who desire dramatic improvements in their smiles, Dr. Cross can combine multiple treatments into a personalized smile makeover plan or achieve a smile transformation with customized porcelain veneers alone. As Dr. Cross explains, the details of any smile makeover are determined based on a comprehensive oral health examination that includes state-of-the-art diagnostic imaging as well as a detailed review of the patient's cosmetic concerns and smile goals. Dr. Cross then creates a new smile design with innovative 3D software and explains the step-by-step process and treatments required to achieve the end result. "I design every smile makeover to align with the patient's lifestyle, facial dimensions, budget, and desired outcome to create a truly unique masterpiece that highlights their natural features and dramatically enhances their appearance," Dr. Cross says.
"A smile makeover can address a wide array of perceived smile imperfections, including stained/discolored teeth, gaps between teeth, misalignment, short/worn teeth, misshapen teeth, cracked/chipped teeth, missing teeth, disproportionate/uneven gumlines, and narrow smiles—while improving the health of the teeth and gums, if necessary," Dr. Cross explains. Smile makeover treatment may be completed within the span of a single visit, over a few appointments, or in phases depending on the types of procedures that are required and any time required for lab-fabricated restorations.
According to Dr. Cross, smile makeover patients may undergo the following dental treatments to transform their smiles:
Porcelain Veneers can address a variety of dental flaws with a single treatment. These thin shells of ceramic material can conceal almost any cosmetic concern with a beautiful new facade.
Dental Implants can replace missing teeth with long-lasting results that feel, function, and look like natural teeth.
Teeth Whitening with professional-strength techniques can significantly whiten and brighten most types of dental stains.
Invisalign® can straighten misaligned teeth comfortably and discreetly with clear-plastic aligners that are custom-made for an optimal fit.
Gum Recontouring can reduce excess gum tissue, lengthen the appearance of teeth, and create a more even gumline to complement other smile improvements.
Porcelain Crowns can add strength and restore a more beautiful appearance to damaged teeth or aging dental work.
When considering a smile makeover with the procedures listed above, Dr. Cross encourages individuals to thoroughly research cosmetic dentists to ensure they have the credentials, experience, training, and track record for success required to deliver top-quality results. "As with any long-term investment, it's crucial to do your homework and find a dentist who can perform to your standards and provide safe, ethical care," he says. He adds, "when I perform smile makeovers, I use my well-developed skill set and sense of artistry to create healthy, beautiful results that inspire trust, boost patients' confidence, and enhance their lives."
About Dr. John Cross
Dr. John Cross has been creating beautiful smiles in Orange County since 1999—and in 2006, he established his private practice, OC Lifesmiles. Dr. Cross completed his undergraduate education at University of California, San Diego and earned his Doctor of Dental Surgery (DDS) at the University of the Pacific in Northern California. He has completed thousands of hours of advanced training in the latest cosmetic, restorative, and reconstructive dental techniques to keep pace with the latest innovations in the field. Additionally, Dr. Cross is accredited in sedation dentistry and Invisalign® orthodontics. At OC Lifesmiles, Dr. Cross offers porcelain veneers, dental implants, full mouth restoration, and more. He is an active member of the professional dental community and is involved in several prominent groups, including the American Academy of Cosmetic Dentistry, the American Academy of General Dentistry, and the Las Vegas Institute for Advanced Dental Studies. Dr. Cross is available for interview upon request.
For more information about Dr. Cross and OC Lifesmiles, please visit oclifesmiles.com and facebook.com/OCLifesmiles.
Contact:
OC Lifesmiles
20271 Acacia St., Suite 100
Newport Beach, CA 92660
(949) 261-1123
Rosemont Media
(800) 491-8623
www.rosemontmedia.com
Contact Us Today
For More Information

Email Us

(949) 242-0680