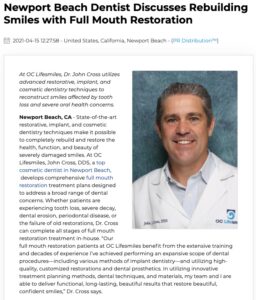 At OC Lifesmiles, Dr. John Cross utilizes advanced restorative, implant, and cosmetic dentistry techniques to reconstruct smiles affected by tooth loss and severe oral health concerns.
Newport Beach, CA – State-of-the-art restorative, implant, and cosmetic dentistry techniques make it possible to completely rebuild and restore the health, function, and beauty of severely damaged smiles. At OC Lifesmiles, John Cross, DDS, a top cosmetic dentist in Newport Beach, develops comprehensive full mouth restoration treatment plans designed to address a broad range of dental concerns. Whether patients are experiencing tooth loss, severe decay, dental erosion, periodontal disease, or the failure of old restorations, Dr. Cross can complete all stages of full mouth restoration treatment in-house. "Our full mouth restoration patients at OC Lifesmiles benefit from the extensive training and decades of experience I've achieved performing an expansive scope of dental procedures—including various methods of implant dentistry—and utilizing high-quality, customized restorations and dental prosthetics. In utilizing innovative treatment planning methods, dental techniques, and materials, my team and I are able to deliver functional, long-lasting, beautiful results that restore beautiful, confident smiles," Dr. Cross says.
The full mouth restoration process begins with a comprehensive oral health evaluation process performed with the latest diagnostic imaging and smile analysis technology, including digital 3D scans. During this initial phase, Dr. Cross identifies the structural and functional issues patients are experiencing, as well as any disease present in the teeth, gums, and/or jawbone. Aesthetic concerns, such as discoloration and tooth misalignment, are also assessed. Based on the information collected, Dr. Cross is able to create a detailed and personalized full mouth restoration treatment plan specifically tailored to resolving all of a patient's most pressing dental concerns. In some instances, patients can undergo several treatments simultaneously, while more complex cases are best addressed using a phased approach to completing treatment. "Once oral disease has been treated and a foundation of good health has been established, we can then proceed with reconstructing and enhancing the smile with a variety of effective treatments," says Dr. Cross.
Full mouth restoration patients of OC Lifesmiles have access to some of the most advanced dental procedures available, all of which are performed by Dr. Cross. For patients struggling with missing teeth or badly damaged teeth that must be removed and replaced, Dr. Cross offers dental implant solutions which can provide the most natural look, feel, and function of any tooth replacement option. Dental implant posts can support single-tooth crown restorations, bridges to replace multiple adjacent teeth, and full-arch dentures (implant supported dentures and All-On-4®). As with all restorations designed and placed by Dr. Cross—including porcelain veneers, crowns, and bridges—prosthetics for dental implants are crafted from high-quality materials that can offer durable, long-lasting, natural-looking results. Individuals who require restorative treatment can also benefit from same-day design, fabrication, and placement of veneers, crowns, inlays, and onlays created with the in-house CEREC® system.
For Dr. Cross, the long-term success of his full mouth restoration treatment plans often lies in the details. This can include choosing the perfect materials or implant system for a patient's needs, spending extra time on diagnostics or meticulous treatment planning, achieving a precise shade-match for restorations, designing the ideal smile to suit a patient's facial features, and creating an optimal fit for lasting comfort and function. Dr. Cross explains, "My goal for each full mouth restoration patient is to ensure they receive the highest-quality treatment at every phase of care, from the initial consultation to their final result. The rewards of this work are seen in the healthy, confident, beautiful smiles our patients achieve. Most of all, I strive to create outcomes that remain successful, comfortable, long-lasting, and natural-looking for many years to come."
About Dr. John Cross
Since 1999, Dr. John Cross has been creating beautiful smiles in Orange County. He established his private practice, OC Lifesmiles, in 2006. Dr. Cross completed his undergraduate education at University of California, San Diego and earned his Doctor of Dental Surgery (DDS) at the University of the Pacific in Northern California. As a skilled practitioner committed to continuing education coursework, he has completed thousands of hours of advanced training in the latest cosmetic, restorative, and reconstructive dental techniques. Dr. Cross has also earned accreditation in sedation dentistry and Invisalign® orthodontics. Dr. Cross offers the full spectrum of dental services at OC Lifesmiles, including porcelain veneers, dental implants, full mouth restoration, and more. As an active participant in the dental community, Dr. Cross is a member of several prominent professional associations, including the American Academy of Cosmetic Dentistry, the American Academy of General Dentistry, and the Las Vegas Institute for Advanced Dental Studies. Dr. Cross is available for interview upon request.
For more information about Dr. Cross and OC Lifesmiles, please visit oclifesmiles.com and facebook.com/OCLifesmiles.
Contact:
OC Lifesmiles
20271 Acacia St., Suite 100
Newport Beach, CA 92660
(949) 261-1123
Rosemont Media
(800) 491-8623
www.rosemontmedia.com
Contact Us Today
For More Information

Email Us

(949) 242-0680