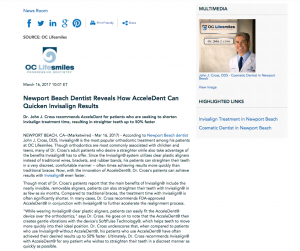 Dr. John J. Cross recommends AcceleDent® for patients who are seeking to shorten Invisalign® treatment time, resulting in straighter teeth up to 50% faster.
Newport Beach, CA – According to Newport Beach dentist John J. Cross, DDS, Invisalign® is the most popular orthodontic treatment among his patients at OC Lifesmiles. Though orthodontics are most commonly associated with children and teens, many of Dr. Cross's adult patients who desire a straighter smile also take advantage of the benefits Invisalign® has to offer. Since the Invisalign® system utilizes clear plastic aligners instead of traditional wires, brackets, and rubber bands, his patients can straighten their teeth in a very discreet, comfortable manner—often times achieving results more quickly than traditional braces. Now, with the innovation of AcceleDent®, Dr. Cross's patients can achieve results with Invisalign® even faster.
Though most of Dr. Cross's patients report that the main benefits of Invisalign® include the nearly invisible, removable aligners, patients can also straighten their teeth with Invisalign® in as few as six months. Compared to traditional braces, the treatment time with Invisalign® is often significantly shorter. In many cases, Dr. Cross recommends FDA-approved AcceleDent® in conjunction with Invisalign® to further accelerate the realignment process.
"While wearing Invisalign® clear plastic aligners, patients can easily fit the AcceleDent® device over the orthodontics," says Dr. Cross. He goes on to note that the AcceleDent® then creates gentle vibrations with the device's SoftPulse Technology®, which helps teeth to move more quickly into their ideal position. Dr. Cross underscores that, when compared to patients who use Invisalign® without AcceleDent®, his patients who use AcceleDent® have often achieved their desired results up to 50% faster. Ultimately, Dr. Cross recommends Invisalign® with AcceleDent® for any patient who wishes to straighten their teeth in a discreet manner as quickly as possible.
About John J. Cross, DDS
A graduate of University of California, San Diego, Dr. John Cross earned his DDS degree at the University of the Pacific in San Francisco. He now heads OC Lifesmiles in Newport Beach, a cosmetic dentistry practice that offers an extensive range of treatments, including surgically guided dental implants, CEREC® same-day dental crowns, smile makeovers, tooth-colored fillings, implant supported dentures, Invisalign®, and more. Dr. Cross currently serves as an active member of the American Academy of Cosmetic Dentistry, the American Academy of General Dentistry, and many other professional organizations. He is available for interview upon request.
To learn more about Dr. John Cross and OC Lifesmiles, please visit oclifesmiles.com, facebook.com/OCLifesmiles, and plus.google.com/u/0/+OCLIFESMILESCA/about.
Contact:
OC Lifesmiles
20271 Southwest Acacia Street
Suite 100
Newport Beach, CA 92660
(949) 261-1123
Rosemont Media
(858) 200-0044
www.rosemontmedia.com
Contact Us Today
For More Information

Email Us

(949) 242-0680