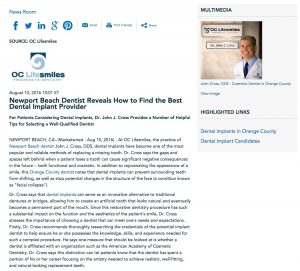 For patients considering dental implants, Dr. John J. Cross provides a number of helpful tips for selecting a well-qualified dentist.
Newport Beach, CA – At OC Lifesmiles, the practice of Newport Beach dentist John J. Cross, DDS, dental implants have become one of the most popular and reliable methods of replacing a missing tooth. Dr. Cross says the gaps and spaces left behind when a patient loses a tooth can cause significant negative consequences in the future—both functional and cosmetic. In addition to rejuvenating the appearance of a smile, this Orange County dentist notes that dental implants can prevent surrounding teeth from shifting, as well as stop potential changes in the structure of the face (a condition known as "facial collapse").
Dr. Cross says that dental implants can serve as an innovative alternative to traditional dentures or bridges, allowing him to create an artificial tooth that looks natural and eventually becomes a permanent part of the mouth. Since this restorative dentistry procedure has such a substantial impact on the function and the aesthetics of the patient's smile, Dr. Cross stresses the importance of choosing a dentist that can meet one's needs and expectations. Firstly, Dr. Cross recommends thoroughly researching the credentials of the potential implant dentist to help ensure he or she possesses the knowledge, skills, and experience needed for such a complex procedure. He says one measure that should be looked at is whether a dentist is affiliated with an organization such as the American Academy of Cosmetic Dentistry. Dr. Cross says this distinction can let patients know that the dentist has spent a portion of his or her career focusing on the artistry needed to achieve realistic, well-fitting, and natural-looking replacement teeth.
Before-and-after photos can provide an additional resource, allowing patients to see the successes of each dentist, says Dr. Cross. These images can also offer a visual reference point during the consultation process for patients to discuss their goals for dental implant surgery. Similarly, Dr. Cross says, patient testimonials offer individuals an opportunity to hear about the experiences of other dental implant candidates in their own words.
Dr. Cross also notes that the quality of the laboratory responsible for manufacturing the custom crowns typically plays a vital role in the outcome of the procedure, and he urges patients to inquire about where these porcelain restorations are milled. At OC Lifesmiles, Dr. Cross often uses CEREC® same-day restorations, which allow him to craft high-quality durable crowns right in the office and maximize convenience for the patient. In addition, each CEREC® crown is uniquely customized to blend seamlessly with the patient's smile. Dr. Cross says 3D imaging and dental implant planning software such as Nobelclinician is another important tool for implant dentists. The system allows for the creation of a comprehensive surgical guide for dental implants. Dr. Cross says this kind of imaging and planning technology is an important tool for implant dentists because it can yield precise implant placement with results that look and fit as naturally as possible.
With an experienced dentist who uses state-of-the-art techniques and the highest-quality materials, Dr. Cross says dental implants can often be an ideal missing teeth replacement solution for patients who are good candidates for the procedure.
About John J. Cross, DDS
Dr. John Cross is the head of OC Lifesmiles in Newport Beach. The practice offers an extensive range of cosmetic and restorative dental treatments, including smile makeovers, tooth-colored fillings, CEREC® same-day dental crowns, implant supported dentures, surgically guided dental implants, and more. Dr. Cross is a sustaining member of the American Academy of General Dentistry, the American Academy of Cosmetic Dentistry, and many other organizations. Dr. Cross is available for interview upon request.
To learn more about Dr. John Cross and OC Lifesmiles, please visit oclifesmiles.com, facebook.com/OCLifesmiles, and plus.google.com/u/0/+OCLIFESMILESCA/about.
Contact:
OC Lifesmiles
20271 Acacia Street
Suite 100
Newport Beach, CA 92660
(949) 261-1123
Rosemont Media
(858) 200-0044
www.rosemontmedia.com
Contact Us Today
For More Information

Email Us

(949) 242-0680