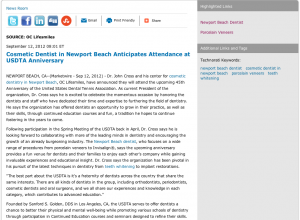 Newport Beach, CA — Dr. John Cross and his center for cosmetic dentistry in Newport Beach, OC Lifesmiles, have announced they will attend the upcoming 45th Anniversary of the United States Dental Tennis Association. As current President of the organization, Dr. Cross says he is excited to celebrate the momentous occasion by honoring the dentists and staff who have dedicated their time and expertise to furthering the field of dentistry. He says the organization has offered dentists an opportunity to grow in their practice, as well as their skills, through continued education courses and fun, a tradition he hopes to continue fostering in the years to come.
Following participation in the Spring Meeting of the USDTA back in April, Dr. Cross says he is looking forward to collaborating with more of the leading minds in dentistry and encouraging the growth of an already burgeoning industry. The Newport Beach dentist, who focuses on a wide range of procedures from porcelain veneers to Invisalign®, says the upcoming anniversary provides a fun venue for dentists and their families to enjoy each other's company while gaining invaluable experiences and educational insight. Dr. Cross says the organization has been pivotal in his pursuit of the latest techniques in dentistry from teeth whitening to implant restorations.
"The best part about the USDTA is it's a fraternity of dentists across the country that share the same interests. There are all kinds of dentists in the group, including orthodontists, periodontists, cosmetic dentists and oral surgeons, and we all share our experiences and knowledge in each category, which contributes to advanced education."
Founded by Sanford S. Golden, DDS in Los Angeles, CA, the USDTA serves to offer dentists a chance to better their physical and mental well-being while promoting various schools of dentistry through participation in Continued Education courses and seminars designed to refine their skills. Dr. Cross says the organization also works to organize events that are unique, informative, and fun for the whole family. He says whether they are engaging in advanced hands on training for performing porcelain veneers or brushing up on their tennis serve, members have a host of opportunities at their disposal for appreciating the joys and fulfillment of dentistry.
"Dr John Cross has served on the USDTA Board for several years and this year as President, he excelled in leading the organization through its 45th year. We have had very successful meetings this past year with Dr. Cross as President with many new members and great speakers," says Cori Lee, a USDTA executive.
With over 300 current members, Dr. Cross says he is excited to participate in the future formation of the USDTA and hopes his role as President has helped influence more dentists to take part in the rewarding organization. As the anniversary looms, he says he is thankful for his role with the USDTA and encourages other dentists to consider partnering with the association's efforts because of their commitment to patients as well as the advancement of a safe and gratifying dental practice.
About John Cross, DDS
Dr. John Cross earned his undergraduate degree from the University of California, San Diego and his Doctor of Dental Surgery (D.D.S.) degree from the University of the Pacific in San Francisco, followed by a two-year residency at the University of Southern California. He has dedicated numerous hours to his continued education and is a member of the American Academy of Cosmetic Dentistry, the Las Vegas Institute for Advanced Dental Studies, the Academy of General Dentistry, and several other professional organizations. Dr. Cross is also accredited in Invisalign®, Zoom!® teeth whitening, and sedation dentistry.
Located at 20271 Acacia Street, Suite 100 in Newport Beach, CA, OC Lifesmiles can be reached at (949) 242-0680. Dr. Cross and his team can also be contacted online via the website oclifesmiles.com or facebook.com/OCLifesmiles.
Contact Us Today
For More Information

Email Us

(949) 242-0680