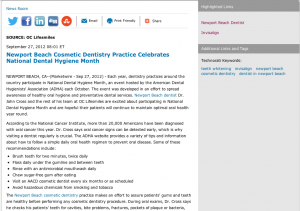 Newport Beach, CA–Each year, dentistry practices around the country participate in National Dental Hygiene Month, an event hosted by the American Dental Hygienists' Association (ADHA) each October. The event was developed in an effort to spread awareness of healthy oral hygiene and preventative dental services. Newport Beach dentist Dr. John Cross and the rest of his team at OC Lifesmiles are excited about participating in National Dental Hygiene Month and are hopeful their patients will continue to maintain optimal oral health year round.
According to the National Cancer Institute, more than 20,000 Americans have been diagnosed with oral cancer this year. Dr. Cross says oral cancer signs can be detected early, which is why visiting a dentist regularly is crucial. The ADHA website provides a variety of tips and information about how to follow a simple daily oral health regimen to prevent oral disease. Some of these recommendations include:
Brush teeth for two minutes, twice daily
Floss daily under the gumline and between teeth
Rinse with an antimicrobial mouthwash daily
Chew sugar-free gum after eating
Visit an AACD cosmetic dentist every six months or as scheduled
Avoid hazardous chemicals from smoking and tobacco
The Newport Beach cosmetic dentistry practice makes an effort to assure patients' gums and teeth are healthy before performing any cosmetic dentistry procedure. During oral exams, Dr. Cross says he checks his patients' teeth for cavities, bite problems, fractures, pockets of plaque or bacteria, and takes X-rays for an in-depth look at the gums. If early signs of oral cancer are detected, he adds that he will take the necessary steps to assure the patient is treated properly.
Dr. Cross believes that National Dental Hygiene Month is a great way to spread public awareness of how to maintain proper oral health. At his practice, he performs a variety of restorative, cosmetic and general dentistry procedures, including Invisalign®, porcelain veneers, dental implant restorations and smile makeovers. Dr. Cross emphasizes that he and his team at OC Lifesmiles take a personal approach to patient care by not only treating teeth, but by treating the entire person. The team is committed to making sure patients are properly educated on how to keep their teeth healthy and believe that first-rate care can have a positive impact on patients' lives.
About John Cross, DDS
Dr. John Cross obtained his undergraduate degree from the University of California, San Diego and earned his DDS degree from the University of the Pacific in San Francisco. He has run his cosmetic dentistry practice in Orange County since 2006 and has dedicated several hundred hours to continuing education courses. Dr. Cross is a member of a number of professional organizations, including the American Academy of Cosmetic Dentistry, American Academy of General Dentistry, Las Vegas Institute for Advanced Dental Studies and the United States Dental Tennis Association. Dr. Cross is accredited in Zoom!® teeth whitening, sedation dentistry and Invisalign®.
Located at 20271 Acacia Street, Suite 100 in Newport Beach, CA, OC Lifesmiles can be reached at (949) 242-0680. Dr. Cross and his team can also be contacted online via the website oclifesmiles.com or facebook.com/OCLifesmiles.
Contact Us Today
For More Information

Email Us

(949) 242-0680