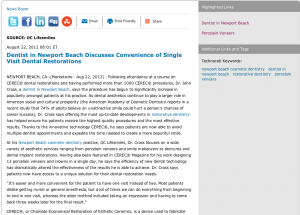 Newport Beach, CA — Following attendance at a course on CEREC® dental restorations and having performed more than 1000 CEREC® procedures, Dr. John Cross, a dentist in Newport Beach, says the procedure has begun to significantly increase in popularity amongst patients at his practice. As dental aesthetics continue to play a larger role in American social and cultural prosperity (the American Academy of Cosmetic Dentistry reports in a recent study that 74% of adults believe an unattractive smile could hurt a person's chances of career success), Dr. Cross says offering the most up-to-date developments in restorative dentistry has helped ensure his patients receive the highest quality procedures and the most effective results. Thanks to the innovative technology CEREC®, he says patients are now able to avoid multiple dentist appointments and expedite the time needed to create a more beautiful smile.
At his Newport Beach cosmetic dentistry practice, OC Lifesmiles, Dr. Cross focuses on a wide variety of aesthetic services ranging from porcelain veneers and smile makeovers to dentures and dental implant restorations. Having also been featured in CEREC® Magazine for his work designing 12 porcelain veneers and crowns in a single day, he says the efficiency of new dental technology has dramatically altered the effectiveness of the results he is able to achieve. Dr. Cross says patients now have access to a unique solution for their dental restoration needs.
"It's easier and more convenient for the patient to have one visit instead of two. Most patients dislike getting numb or general anesthesia, but a lot of times we can do everything from beginning to end in one visit, whereas the older method included taking an impression and having to come back three weeks later for the final result."
CEREC®, or Chairside Economical Restoration of Esthetic Ceramics, is a device used to fabricate custom, one-visit restorations without the need to wait weeks for porcelain veneers or crowns. After removing damaged tissue or decay from the tooth, Dr. Cross says he then takes digital impressions of the teeth using an infrared camera attached to the CEREC® 3D software and then designs a personalized restoration next to the patient's chair. Then the milling unit crafts the restoration and the dentist adheres the veneer or crown to the patient's teeth in order to examine its fit and feel. Dr. Cross says the ultimate benefit for patients is the expediency of the procedure and not having to wait for their results.
"The technology used in the CEREC® process has been around for more than 25 years, but the advancement of software upgrades and materials has made these types of restorations just as effective as the ones that an excellent lab can create. Each upgrade allows us to provide a higher quality restoration with less waiting time."
As with any dental procedure, Dr. Cross says patients should be sure to consult with an experienced and qualified cosmetic dentist before considering any dental restoration. Because the CEREC® device requires a steady hand and an eye for dental aesthetics, he encourages all patients to research their practice thoroughly to ensure they receive the highest quality results. However, through partnership with a dedicated, artistic dentist, Dr. Cross says the CEREC® technology can be a valuable tool for patients looking to improve their smile as well as their overall confidence.
About John Cross, DDS
Dr. John Cross graduated from the University of California, San Diego and received his Doctor of Dental Surgery (D.D.S) degree from the University of the Pacific in San Francisco. He completed a residency at the University of Southern California and has taken several hundred hours of continued education since then. Dr. Cross is a member of the American Academy of Cosmetic Dentistry, the Las Vegas Institute for Advanced Dental Studies, the Academy of General Dentistry, the United States Dental Tennis Association, and several other professional organizations. He is accredited in sedation dentistry, Zoom!® teeth whitening, and Invisalign®.
Located at 20271 Acacia Street, Suite 100 in Newport Beach, CA, OC Lifesmiles can be reached at (949) 242-0680. It can also be contacted online via the website oclifesmiles.com or at facebook.com/OCLifesmiles.
Contact Us Today
For More Information

Email Us

(949) 242-0680