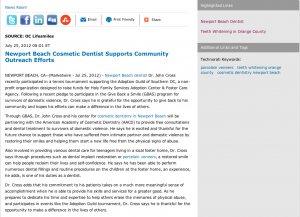 Newport Beach, CA — Newport Beach dentist Dr. John Cross recently participated in a tennis tournament supporting the Adoption Guild of Southern OC, a non-profit organization designed to raise funds for Holy Family Services Adoption Center & Foster Care Agency. Following a recent pledge to participate in the Give Back a Smile (GBAS) program for survivors of domestic violence, Dr. Cross says he is grateful for the opportunity to give back to his community and hopes his efforts can make a difference in the lives of others.
Through GBAS, Dr. John Cross and his center for cosmetic dentistry in Newport Beach will be partnering with the American Academy of Cosmetic Dentistry (AACD) to provide free consultations and dental treatment to survivors of domestic violence. He says he is excited and thankful for the future chance to support those who have suffered from intimate partner and domestic violence by restoring their smiles and helping them start a new life free from the physical signs of abuse.
Also involved in providing various dental care for teenagers living in a local foster home, Dr. Cross says through procedures such as dental implant restoration or porcelain veneers, a restored smile can help people reclaim their lives and self-confidence. He says he has been able to perform numerous dental fillings and routine procedures on the children at the foster home, an experience he adds is one of his duties as a dentist.
Dr. Cross adds that his commitment to his patients takes on a much more meaningful sense of accomplishment when he is able to provide his skills and services for a greater good. As he prepares to dedicate his time and expertise to help others erase the memories of physical abuse and participates in events like the Adoption Guild tournament, Dr. Cross says he is thankful for the opportunity to make a difference in the lives of others.
About the Give Back a Smile Program
Launched on May 27, 1999, the GBAS program has helped restore the damaged smiles of more than 1,100 survivors of intimate partner violence with over $10 million in dental procedures. To make a donation or learn more about the application process for treatment, visit http://www.givebackasmile.com.
About John Cross, DDS
Dr. John Cross earned his undergraduate degree from the University of California, San Diego and his dental degree from the University of the Pacific in San Francisco. He also completed a two-year residency program at the University of Southern California. Dr. Cross is a current member of the American Academy of Cosmetic Dentistry, the Las Vegas Institute for Advanced Dental Studies, the American Academy of General Dentistry, and several other professional organizations. He is accredited in sedation dentistry, Invisalign®, and Zoom!® teeth whitening in Orange County.
Located at 20271 Acacia Street, Suite 100 in Newport Beach, CA, Dr. Cross's practice, OC Lifesmiles, can be reached at (949) 242-0680. It can also be contacted online via the website oclifesmiles.com or facebook.com/OCLifesmiles.
Contact Us Today
For More Information

Email Us

(949) 242-0680