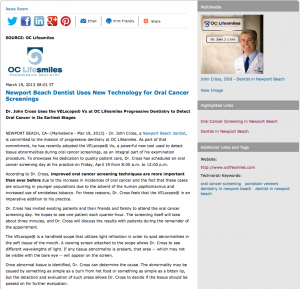 Dr. John Cross uses the VELscope® Vx at OC Lifesmiles Progressive Dentistry to detect oral cancer in its earliest stages.
Newport Beach, CA – Dr. John Cross, a Newport Beach dentist, is committed to the mission of progressive dentistry at OC Lifesmiles. As part of that commitment, he has recently adopted the VELscope® Vx, a powerful new tool used to detect tissue abnormalities during oral cancer screenings, as an integral part of his examination procedure. To showcase his dedication to quality patient care, Dr. Cross has scheduled an oral cancer screening day at his practice on Friday, April 19 from 8:00 a.m. to 12:00 p.m.
According to Dr. Cross, improved oral cancer screening techniques are more important than ever before due to the increase in incidences of oral cancer and the fact that these cases are occurring in younger populations due to the advent of the human papillomavirus and increased use of smokeless tobacco. For these reasons, Dr. Cross feels that the VELscope® in an imperative addition to his practice.
Dr. Cross has invited existing patients and their friends and family to attend the oral cancer screening day. He hopes to see one patient each quarter-hour. The screening itself will take about three minutes, and Dr. Cross will discuss the results with patients during the remainder of the appointment.
The VELscope® is a handheld scope that utilizes light refraction in order to spot abnormalities in the soft tissue of the mouth. A viewing screen attached to the scope allows Dr. Cross to see different wavelengths of light. If any tissue abnormality is present, that area – which may not be visible with the bare eye – will appear on the screen.
Once abnormal tissue is identified, Dr. Cross can determine the cause. The abnormality may be caused by something as simple as a burn from hot food or something as simple as a bitten lip, but the detection and evaluation of such areas allows Dr. Cross to decide if the tissue should be passed on for further evaluation.
Dr. Cross stresses that the major advantage of the VELscope® is the focus placed on spotting tissue abnormalities. He says many dentists expect they will spot abnormalities during their routine procedures, but the use of the VELscope® ensures that part of the patient's examination will be solely devoted to an oral cancer screening.
While there will be an increase in false positives for dentists using the VELscope®, Dr. Cross believes these false positives are beneficial, as more attention will be paid to abnormalities that might otherwise go unnoticed. He adds that the VELscope® will lead to earlier detection for some patients and can save them valuable time to be properly treated.
The greatest benefit of the VELscope® Vx for Dr. Cross's Newport Beach dentistry patients is the early detection of tissue changes that could be fatal or require major surgery. As a dentist committed to being a progressive leader in his field, Dr. Cross believes it is his duty to raise awareness to the prominence of oral cancer and assist in early detection efforts.
About John Cross, DDS
Dr. John Cross is a graduate of the University of California, San Diego and earned his dental degree at University of the Pacific in San Francisco. He is an advocate for continuing education courses and has studied with leading cosmetic dentists in the field. Dr. Cross is extensively trained in a wide range of procedures including porcelain veneers, teeth whitening and Invisalign®. He is available for interview upon request.
Contact Us Today
For More Information

Email Us

(949) 242-0680