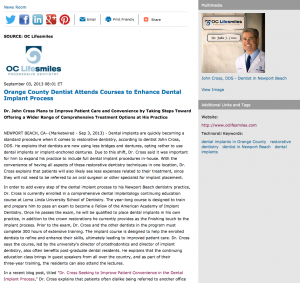 Dr. John Cross plans to improve patient care and convenience by taking steps toward offering a wider range of comprehensive treatment options at his practice.

Newport Beach, CA — Dental implants are quickly becoming a standard procedure when it comes to restorative dentistry, according to dentist John Cross, DDS. He explains that dentists are now using less bridges and dentures, opting rather to use dental implants or implant-anchored dentures. Due to this shift, Dr. Cross said it was important for him to expand his practice to include full dental implant procedures in-house. With the convenience of having all aspects of these restorative dentistry techniques in one location, Dr. Cross explains that patients will also likely see less expenses related to their treatment, since they will not need to be referred to an oral surgeon or other specialist for implant placement.
In order to add every step of the dental implant process to his Newport Beach dentistry practice, Dr. Cross is currently enrolled in a comprehensive dental implantology continuing education course at Loma Linda University School of Dentistry. The year-long course is designed to train and prepare him to pass an exam to become a Fellow of the American Academy of Implant Dentistry. Once he passes the exam, he will be qualified to place dental implants in his own practice, in addition to the crown restorations he currently provides as the finishing touch to the implant process. Prior to the exam, Dr. Cross and the other dentists in the program must complete 300 hours of extensive training. The implant course is designed to help the enrolled dentists to refine and enhance their skills, ultimately leading to improved patient care. Dr. Cross says the course, led by the university's director of prosthodontics and director of implant dentistry, also often benefits post-graduate dental residents. He explains that the continuing education class brings in guest speakers from all over the country, and as part of their three-year training, the residents can also attend the lectures.
In a recent blog post, titled "Dr. Cross Seeking to Improve Patient Convenience in the Dental Implant Process," Dr. Cross explains that patients often dislike being referred to another office for part of their procedure. Although he notes that having a strong line of communication between the restoring dentist and the oral surgeon can lead to excellent outcomes, he believes having the entire procedure completed by the same medical professional offers another advantage in addition to reducing inconvenient referrals. "There is a benefit to having the same doctor who is placing the implant to also restore the tooth. For example, I am going to place the implant exactly where it needs to be in order for me to be able to restore the tooth and have it look and function exactly like the tooth that was previously there."
Dr. Cross says that the implantology course is well-rounded, helping experienced dentists like himself to not only expand their skills, but also to improve their knowledge of modern dentistry. He explains that there are many different manufacturers producing dental implants, so part of the course involves learning how to properly evaluate current research. Because of this, Dr. Cross says he will be able to select reliable materials and techniques that have valid research to back them up. He feels that understanding this helps him ensure long-lasting results and the highest quality of care for his patients.
About John Cross, DDS
Dr. John Cross is a member of the American Academy of Cosmetic Dentistry, the American Academy of General Dentistry, and several other prestigious dental societies and organizations. He has completed several hundreds of hours in continuing education courses, and consistently enhances his knowledge and skills through further continuing education programs and classes. Dr. Cross is the head of OC Lifesmiles Progressive Dentistry in Newport Beach. He is available for interview upon request.
For more information about Dr. John Cross and his practice, please visit oclifesmiles.com or facebook.com/OCLifesmiles.
Contact:
OC Lifesmiles
20271 Acacia Street
Suite 100
Newport Beach, CA 92660
(949) 242-0680
Rosemont Media
[email protected]
(858) 200-0044
www.rosemontmedia.com
Contact Us Today
For More Information

Email Us

(949) 242-0680