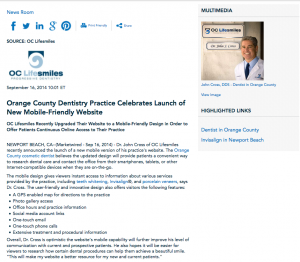 OC Lifesmiles recently upgraded their website to a mobile-friendly design in order to offer patients continuous online access to their practice.
Newport Beach, CA – Dr. John Cross of OC Lifesmiles recently announced the launch of a new mobile version of his practice's website. The Orange County cosmetic dentist believes the updated design will provide patients a convenient way to research dental care and contact the office from their smartphones, tablets, or other Internet-compatible devices when they are on-the-go.
The mobile design gives viewers instant access to information about various services provided by the practice, including teeth whitening, Invisalign®, and porcelain veneers, says Dr. Cross.The user-friendly and innovative design also offers visitors the following features:
A GPS enabled map for directions to the practice
Photo gallery access
Office hours and practice information
Social media account links
One-touch email
One-touch phone calls
Extensive treatment and procedural information
Overall, Dr. Cross is optimistic the website's mobile capability will further improve his level of communication with current and prospective patients. He also hopes it will be easier for viewers to research how certain dental procedures can help them achieve a beautiful smile. "This will make my website a better resource for my new and current patients."
About John Cross, DDS
Dr. Cross graduated from the University of California, San Diego and attended the University of the Pacific in San Francisco to earn his dental degree. He is a member of the American Academy of Cosmetic Dentistry, the American Academy of General Dentistry, the Las Vegas Institute for Advanced Dental Studies, and many other prestigious dental organizations. His practice, OC Lifesmiles, provides an expansive range of restorative, general, and cosmetic dentistry treatments and services to patients in Southern California. He is available for interview upon request.
For more information about Dr. John Cross or OC Lifesmiles, visit oclifesmiles.com or facebook.com/OCLifesmiles.
Contact:
OC Lifesmiles Progressive Dentistry
20271 Acacia Street
Suite 100
Newport Beach, CA 92660
(949) 242-0680
Rosemont Media
(858) 200-0044
www.rosemontmedia.com
Contact Us Today
For More Information

Email Us

(949) 242-0680