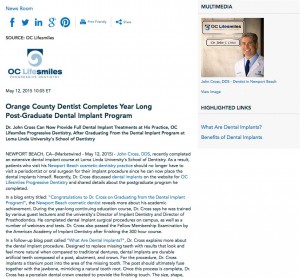 Dr. John Cross can now provide full dental implant treatments at his practice, OC Lifesmiles Progressive Dentistry, after graduating from the dental implant program at Loma Linda University's School of Dentistry.
Newport Beach, CA — John Cross, DDS, recently completed an extensive dental implant course at Loma Linda University's School of Dentistry. As a result, patients who visit his Newport Beach cosmetic dentistry practice should no longer have to visit a periodontist or oral surgeon for their implant procedure since he can now place the dental implants himself. Recently, Dr. Cross discussed dental implants on the website for OC Lifesmiles Progressive Dentistry and shared details about the postgraduate program he completed.
In a blog entry titled: "Congratulations to Dr. Cross on Graduating from the Dental Implant Program!", the Newport Beach cosmetic dentist reveals more about his academic achievement. During the year-long continuing education course, Dr. Cross says he was trained by various guest lecturers and the university's Director of Implant Dentistry and Director of Prosthodontics. He completed dental implant surgical procedures on campus, as well as a number of webinars and tests. Dr. Cross also passed the Fellow Membership Examination by the American Academy of Implant Dentistry after finishing the 300 hour course.
In a follow-up blog post called "What Are Dental Implants?", Dr. Cross explains more about the dental implant procedure. Designed to replace missing teeth with results that look and feel more natural when compared to traditional dentures, dental implants are durable artificial teeth composed of a post, abutment, and crown. For the procedure, Dr. Cross implants a titanium post into the area of the missing tooth. The post should ultimately fuse together with the jawbone, mimicking a natural tooth root. Once this process is complete, Dr. Cross has a porcelain dental crown created to provide the finishing touch. The size, shape, and color of the crown are customized to blend in with the rest of the patient's teeth. Overall, the porcelain restoration is designed to provide results that look, feel, and function just like natural teeth, says Dr. Cross. He adds that these benefits of dental implants are enhanced by the fact that the procedure can also make it easier for patients to chew, bite, and speak, as well as provide comfort and stability that traditional dentures can't often match.
Dr. Cross says dental implants can be an excellent solution for patients missing one or more teeth. "Most dentists prefer to do a weekend course instead of a specific implantology program before placing implants in their patients. I was inspired to finish this challenging program to further improve the standard of care for my patients," emphasizes Dr. Cross. He says the procedure can significantly restore a patient's smile, with results that are often permanent.
About John Cross, DDS
Dr. John Cross earned his dental degree from the University of the Pacific in San Francisco and completed his residency at the University of Southern California. He is an active member of the American Academy of Cosmetic Dentistry, the American Academy of General Dentistry, and many other organizations. Dr. Cross offers restorative, general, and cosmetic dentistry treatments, including teeth whitening, Invisalign®, and porcelain veneers at OC Lifesmiles Progressive Dentistry. Dr. Cross is available for interview upon request.
For more information about dental implants, visit oclifesmiles.com or facebook.com/OCLifesmiles.
Contact:
OC Lifesmiles Progressive Dentistry
20271 Acacia Street
Suite 100
Newport Beach, CA 92660
(949) 242-0680
Rosemont Media
(858) 200-0044
www.rosemontmedia.com
Contact Us Today
For More Information

Email Us

(949) 242-0680