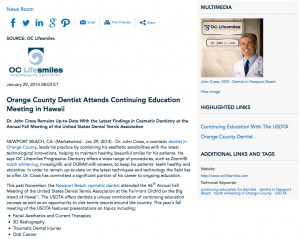 Dr. John Cross remains up-to-date with the latest findings in cosmetic dentistry at the Annual Fall Meeting of the United States Dental Tennis Association.
Newport Beach, CA – Dr. John Cross, a cosmetic dentist in Orange County, leads his practice by combining his aesthetic sensibilities with the latest technological innovations, helping to maintain healthy, beautiful smiles for his patients. He says OC Lifesmiles Progressive Dentistry offers a wide range of procedures, such as Zoom!® tooth whitening, Invisalign®, and DURAthin® veneers, to keep his patients' teeth healthy and attractive. In order to remain up-to-date on the latest techniques and technology the field has to offer, Dr. Cross has committed a significant portion of his career to ongoing education.
This past November, the Newport Beach cosmetic dentist attended the 46th Annual Fall Meeting of the United States Dental Tennis Association at the Fairmont Orchid on the Big Island of Hawai'i. The USDTA offers dentists a unique combination of continuing education courses as well as an opportunity to visit tennis resorts around the country. This year's fall meeting of the USDTA featured presentations on topics including:
Facial Aesthetics and Current Therapies
3D Radiography
Traumatic Dental Injuries
Oral Cancer
Dr. Cross outlined why he believes the organization offers such a unique experience in a recent blog post titled "Continuing Education With The USDTA." "As leading dentists in the country, we spend most of the year working in relative isolation from our professional peers," says Dr. Cross. "These conferences give us a chance not only to relax together but also to share information about the latest techniques we are using back at the office or the innovative technologies we have adopted." Dr. Cross goes on to say that, upon returning to OC Lifesmiles Progressive Dentistry, he felt renewed energy to apply the information he learned at the conference to his current dental practices. He says that, throughout the journey of his continuing education, his end goal has always remained the same – to provide his patients with the best possible care.
About John Cross, DDS
A graduate of the University of California, San Diego, Dr. John Cross earned his dental degree at University of the Pacific in San Francisco. He holds membership in the American Academy of Cosmetic Dentistry, the American Academy of Implant Dentistry, the American Academy of General Dentistry, and many other organizations. Dr. Cross is available for interview upon request.
For more information about Dr. John Cross or OC Lifesmiles Progressive Dentistry, visit oclifesmiles.com or facebook.com/OCLifesmiles.
Contact:
OC Lifesmiles Progressive Dentistry
20271 Acacia Street
Suite 100
Newport Beach, CA 92660
(949) 242-0680
Rosemont Media
[email protected]
(858) 200-0044
www.rosemontmedia.com
Contact Us Today
For More Information

Email Us

(949) 242-0680