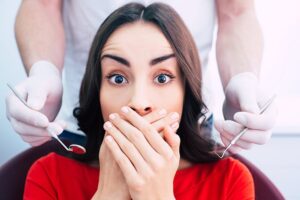 Many patients experience anxiety before coming to the dentist. And that's perfectly normal; everybody has anxiety to some extent. However, when your trepidation becomes so severe that routine dental care becomes too daunting, it may be time to conquer these fears for the sake of your own health. At OC Lifesmiles, your safety and comfort are our priorities. Dr. John Cross, DDS has helped countless patients with dental anxiety throughout his two-decade-long career. He is also extensively trained and experienced in sedation dentistry. No matter the procedure, we strive to create a peaceful and relaxing environment. 
How to Ease Anxiety During a Dental Procedure
While dental anxiety is certainly unpleasant, it's also manageable. Implementing the following strategies can help turn the procedure you've been dreading into what feels more like a pleasant session of rest. Try one of these to calm your nerves: 
Listen to music with headphones. Set up a playlist of relaxing music to listen to at your appointment, such as some slow R&B or a classical concerto. The music can provide a wonderful distraction and ease tension.
Bring a loved one with you. A familiar face can be an enormous source of comfort when you are anxious. Your loved one will be there to remind you that no procedure, or period of anxiety, lasts forever.  
Have a great dentist on your side. Always have a friendly, understanding professional be the one to handle your procedures. A competent dentist will listen to your fears and try their hardest to alleviate them.
Oral Conscious Sedation 
Many of our patients have found comfort in sedation dentistry. We use oral conscious sedation, which is so called because it's administered via oral medication. We monitor your vitals the entire time you're under sedation, although you'll be technically conscious – just very relaxed – the whole time. This extremely effective method makes the entire procedure feel like it's over in minutes.
Compassionate Cosmetic Dentist in Newport Beach
At OC Lifesmiles, we understand how inhibiting dental anxiety can feel. But we'll be here to keep you as comfortable as possible throughout the entire procedure. If you have any questions about sedation dentistry or other ways we can accommodate your anxiety, give us a call today.  
Contact Us Today
For More Information

Email Us

(949) 242-0680