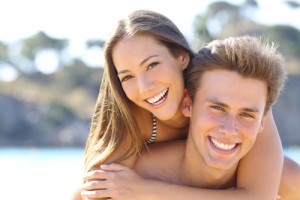 Porcelain veneers can be an effective solution for patients seeking to address cracked, chipped, stained, or worn teeth. Using an ultra-thin sheath to cover the tooth, our DURAthin® veneers can improve the appearance of your teeth without removing any of your tooth's natural structure. Porcelain veneers can even be used to eliminate gaps between your teeth!
With so many advantages, patients often wonder if they would be good candidates for this cosmetic procedure. The first step in determining your candidacy for porcelain veneers is to undergo an oral exam and ensure your teeth and gums are healthy. At OC Lifesmiles, we believe good oral health should always be your first step toward achieving a beautiful smile.
If your teeth and gums are in good health, we can then discuss your personal goals and the best way to achieve them. While most people are eligible for porcelain veneers, patients with severely misaligned teeth may require orthodontic treatment before veneers can be applied. In addition, patients who frequently grind their teeth, clench their jaw, or engage in contact sports may not be ideal candidates for DURAthin® veneers since these activities can compromise the integrity of the veneer. For these patients, dental crowns may better suit their needs.
To discover if porcelain veneers are right for you, please contact OC Lifesmiles today to schedule a consultation.
Contact Us Today
For More Information

Email Us

(949) 242-0680