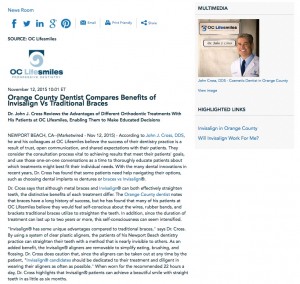 Dr. John J. Cross reviews the advantages of different orthodontic treatments with his patients at OC Lifesmiles, enabling them to make educated decisions.
Newport Beach, CA – According to John J. Cross, DDS, he and his colleagues at OC Lifesmiles believe the success of their dentistry practice is a result of trust, open communication, and shared expectations with their patients. They consider the consultation process vital to achieving results that meet their patients' goals, and use those one-on-one conversations as a time to thoroughly educate patients about which treatments might best fit their individual needs. With the many dental innovations in recent years, Dr. Cross has found that some patients need help navigating their options, such as choosing dental implants vs dentures or braces vs Invisalign®.
Dr. Cross says that although metal braces and Invisalign® can both effectively straighten teeth, the distinctive benefits of each treatment differ. The Orange County dentist notes that braces have a long history of success, but he has found that many of his patients at OC Lifesmiles believe they would feel self-conscious about the wires, rubber bands, and brackets traditional braces utilize to straighten the teeth. In addition, since the duration of treatment can last up to two years or more, this self-consciousness can seem intensified.
"Invisalign® has some unique advantages compared to traditional braces," says Dr. Cross. By using a system of clear plastic aligners, the patients of his Newport Beach dentistry practice can straighten their teeth with a method that is nearly invisible to others. As an added benefit, the Invisalign® aligners are removable to simplify eating, brushing, and flossing. Dr. Cross does caution that, since the aligners can be taken out at any time by the patient, "Invisalign® candidates should be dedicated to their treatment and diligent in wearing their aligners as often as possible." When worn for the recommended 22 hours a day, Dr. Cross highlights that Invisalign® patients can achieve a beautiful smile with straight teeth in as little as six months.
About John J. Cross, DDS
Dr. John Cross offers an extensive range of dental treatments, including smile makeovers, tooth colored fillings, CEREC® same-day dental crowns, implant supported dentures, and more. He heads OC Lifesmiles, a dental practice in Newport Beach that also provides surgically guided dental implants. Dr. Cross serves as an active member of several renowned dental organizations, including the American Academy of General Dentistry and the American Academy of Cosmetic Dentistry. He is available for interview upon request.
To learn more about Dr. John Cross and OC Lifesmiles, please visit oclifesmiles.com, facebook.com/OCLifesmiles, and plus.google.com/u/0/+OCLIFESMILESCA/about.
Contact:
OC Lifesmiles
20271 Acacia Street
Suite 100
Newport Beach, CA 92660
(949) 261-1123
Rosemont Media
(858) 200-0044
www.rosemontmedia.com
Contact Us Today
For More Information

Email Us

(949) 242-0680