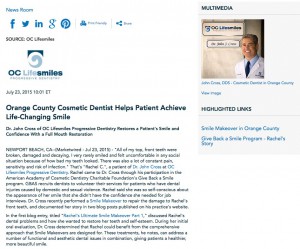 Dr. John Cross of OC Lifesmiles Progressive Dentistry restores a patient's smile and confidence with a full mouth restoration.
Newport Beach, CA — "All of my top, front teeth were broken, damaged and decaying. I very rarely smiled and felt uncomfortable in any social situation because of how bad my teeth looked. There was also a lot of constant pain, sensitivity and risk of infection." That's "Rachel C.", a patient of Dr. John Cross at OC Lifesmiles Progressive Dentistry. Rachel came to Dr. Cross through his participation in the American Academy of Cosmetic Dentistry Charitable Foundation's Give Back a Smile program. GBAS recruits dentists to volunteer their services for patients who have dental injuries caused by domestic and sexual violence. Rachel said she was so self-conscious about the appearance of her smile that she didn't have the confidence she needed for job interviews. Dr. Cross recently performed a Smile Makeover to repair the damage to Rachel's front teeth, and documented her story in two blog posts published on his practice's website.
In the first blog entry, titled "Rachel's Ultimate Smile Makeover Part 1," discussed Rachel's dental problems and how she wanted to restore her teeth and self-esteem. During her initial oral evaluation, Dr. Cross determined that Rachel could benefit from the comprehensive approach that Smile Makeovers are designed for. These treatments, he notes, can address a number of functional and aesthetic dental issues in combination, giving patients a healthier, more beautiful smile.
The second entry in the series, "Rachel's Ultimate Smile Makeover Part 2," describes the treatments involved in Rachel's Smile Makeover to help her reach her goals. Her procedure involved dental implant replacement after extraction of some very problematic teeth, root canal therapy, and dental fillings. Rachel said she was very happy with the entire process, especially since Dr. Cross carefully explained the procedures beforehand. With her newfound confidence, she was even able to get a new job.
When Dr. Cross contacted Rachel later about the results of her smile makeover, she joyfully replied: "I smile all the time now, laugh and have a lot more confidence in everyday interactions. People now say I have a beautiful smile, which is surprising and amazing! My new teeth look so natural. It was not just a 'smile makeover' but a 'life makeover.' I do not even have the words to express my thanks to Dr. Cross and everyone who has helped me!"
About John Cross, DDS
Dr. John Cross received his dental degree at the University of the Pacific in San Francisco. He is an active member of the American Academy of Cosmetic Dentistry, the Las Vegas Institute for Advanced Dental Studies, and the American Academy of General Dentistry. He founded OC Lifesmiles Progressive Dentistry to provide restorative, cosmetic, and general dentistry options to patients in the Newport Beach and Orange County area. Dr. Cross is available for interview upon request.
For more information about Dr. John Cross or OC Lifesmiles Progressive Dentistry, visit oclifesmiles.com or facebook.com/OCLifesmiles.
Contact:
OC Lifesmiles Progressive Dentistry
20271 Acacia Street
Suite 100
Newport Beach, CA 92660
(949) 242-0680
Rosemont Media
(858) 200-0044
www.rosemontmedia.com
Contact Us Today
For More Information

Email Us

(949) 242-0680