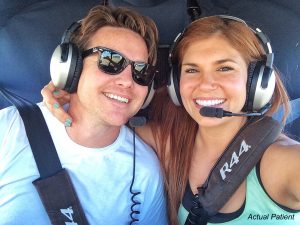 When performed by an experienced cosmetic dentist, the porcelain veneers procedure should cause the patient little to no pain. Traditionally, the affected teeth need to be "prepped" for the veneers, which entails removing some of the natural enamel and tooth material to accommodate veneer thickness and securely bond them into place. However, Dr. John Cross is happy to offer our patients at OC Lifesmiles DURAthin® porcelain veneers – an innovative type of dental veneer that is typically considered a "minimal prep" product.
With DURAthin® porcelain veneers, nearly all of the natural tooth structure can remain intact. Dr. Cross evaluates each patient's needs and desires, and in some situations, the veneers procedure can be performed without the need for anesthetic or tooth preparation. Each DURAthin® veneer is approximately as thick as a contact lens and is attached to the tooth with a strong dental adhesive. The results look exceptionally natural, concealing and correcting many common tooth imperfections such as chips, cracks, gaps, and stains. Our DURAthin® porcelain veneers give our patients a way to rejuvenate the appearance of their smiles with minimal, if any, discomfort.
To learn more about porcelain veneers, or to schedule an appointment with Dr. Cross, please contact OC Lifesmiles.
Contact Us Today
For More Information

Email Us

(949) 242-0680