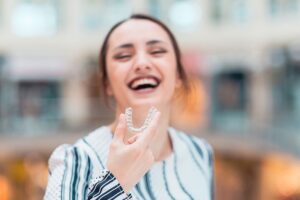 When patients want to address misalignment or gaps in their teeth, Invisalign® and porcelain veneers are often presented as potential options. However, some patients who are considering Invisalign® treatment already have porcelain veneers and wonder if they are still eligible for treatment. If patients have already received porcelain veneers, they can still undergo Invisalign® treatment; however, these treatments are typically performed in the reverse order to achieve the most optimal results. A cosmetic dentist should be able to determine which treatment would best benefit you at an initial consultation. If a patient was in need of Invisalign® and porcelain veneers, an experienced and educated cosmetic dentist will often utilize Invisalign® first. While it is unorthodox, people can still reap the benefits of Invisalign® if they already have porcelain veneers.
Generally, once a cosmetic dental treatment is in place, dentists are hesitant to move or shift them using procedures such as Invisalign®. In most cases, if someone is in need of severe realignment, Invisialign® is often offered as the primary option and will likely be used before any other dental treatment is provided. Once Invisalign® has succeeded in fixing misaligned teeth, porcelain veneers can be used to fix a wider range of dental issues that may still linger. If the process is done in the opposite order for any reason, patients can still improve their smile by combining the benefits of both treatments.
While both treatments can produce fantastic results and enhance your smile, individuals may find it difficult deciding between the two. Although each is able to fix similar issues, there are several differences between the overall benefits produced by the two dental services.
Benefits of Porcelain Veneers: Porcelain veneers can treat uneven, discolored,stained, chipped, and cracked teeth, as well as gaps between teeth. From the initial consultation to the placement of the porcelain veneers, the entire process can take a few weeks to complete and is often known as "instant orthodontics" for its patented quick fix.
Benefits of Invisalign®: Invisalign® aligners can effectively correct misalignment and gaps within patients' smiles. With clear aligners, this treatment is often preferred over traditional braces in order to avoid wires and metal brackets. Invisalign® can take anywhere from four to six months for the realignment of teeth to successfully take place.
If you want to know more about Invisalign® and/or porcelain veneers, please contact us. If you believe you would benefit from either one of these treatments, we encourage you to schedule a consultation today!
Contact Us Today
For More Information

Email Us

(949) 242-0680