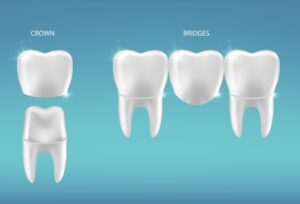 Dental crowns and dental bridges are both tried-and-true options designed to restore function, health, and appearance of the teeth. Our experienced cosmetic dentist, John Cross, DDS, and his team here at OC Lifesmiles offer crowns and bridges made of advanced materials to provide patients with missing or damaged teeth the highest-quality dental restorations possible. With that in mind, it is important for patients to understand the differences between the two options, and why one may be more advantageous than the other based on individual needs and treatment goals. 
Dental Crowns: Porcelain dental crowns are often ideal solutions to restore teeth that have been structurally compromised by severe damage or decay. A crown is custom-crafted to cover the entire visible structure of the tooth, protecting it from further deterioration while improving function and enhancing its appearance at the same time. Crowns are also used as the final step of a dental implant procedure. Our team often uses CEREC® (Chairside Economical Restoration of Esthetic Ceramics) technology to create customized CEREC® crowns in a single appointment. This process is designed to provide efficient and effective tooth restoration with results that look natural and can last many years into the future. 
Dental Bridges: A dental bridge may be recommended in cases of one or more missing teeth in the same area of the mouth. This restorative solution essentially "bridges the gap" produced by a single missing tooth or multiple missing teeth that resides between two existing natural teeth. Artificial teeth are placed where the original teeth were lost, and a dental crown is placed on each adjacent tooth to provide supportive reinforcement. Dental bridges have been utilized as missing teeth replacement options for decades and can often serve as an ideal alternative to dental implants for patients who may not be candidates for that treatment. 
If you would like to learn more about dental crowns and dental bridges, or if you are ready to schedule an appointment, please contact our practice today! 
Contact Us Today
For More Information

Email Us

(949) 242-0680