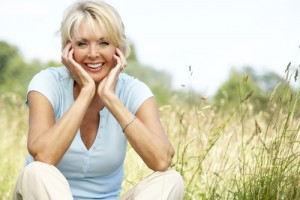 Would you like to transform the health and appearance of your smile? With the help of our experienced cosmetic and restorative dentist, John Cross, DDS, you may be able to achieve the ideal smile you have always wanted. Recent advancements in technologies, procedures, and materials have made it easier and more efficient than ever to repair a wide variety of dental imperfections that may keep you from smiling. Whether you are concerned about the shape, color, condition, or alignment of your teeth, Dr. Cross can develop an effective, long-lasting solution for redesigning your smile to meet your dental health needs and cosmetic goals.
During an initial consultation, Dr. Cross may suggest a combination of the following procedures to help you achieve a comprehensive smile makeover:
Porcelain Veneers – Beautifully conceal a variety of tooth imperfections
Invisalign®- Quickly straighten misaligned teeth with clear, removable aligners
Dental Implants – Restore missing teeth with replacements that look, feel, and function like natural teeth
Zoom!® Teeth Whitening – Whiten your smile by several shades in less than an hour
Porcelain Crowns – Restore damaged teeth with durable, natural-looking results
It is vital to the success of your smile makeover that your dental health is the number one priority. Dr. Cross will first perform a dental exam to diagnose any problematic areas in need of treatment. Once these areas have been restored to better health, the cosmetic enhancement portion of your smile makeover treatment plan can begin. By scheduling a smile makeover consultation today, you can be on your way to the healthy, beautiful smile you desire.
Contact Us Today
For More Information

Email Us

(949) 242-0680