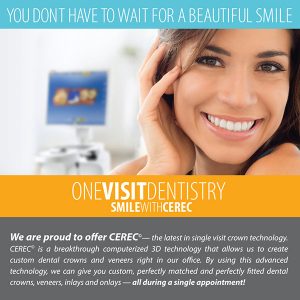 The greatest advantage of CEREC® crowns is the convenience and efficiency of the process used to create them. Unlike lab-made crowns, which require repeated visits to the office, dental impressions, placement of temporary restorations, and time spent waiting for the crown to be fabricated by the ceramicist, CEREC® crowns can be created and secured in our office within the same day. Only one appointment is necessary to treat and prepare your tooth for the crown, collect 3D digital scans of your prepared tooth, design the crown, manufacture the finished crown, and fit it onto your tooth. The results achieved with a CEREC® crown are natural-looking, strong, and long-lasting with proper care and maintenance.
When it comes to fit, durability, and aesthetics, there has been some debate among dentists as to whether CEREC® or lab-made crowns are superior. Each type of crown can be made of the same incredibly strong, all-ceramic materials, making them equally durable. Additionally, the fit achieved with the CEREC® system can be closely matched to the fit created by a ceramicist using digital impressions to fabricate crowns. When lab-created crowns are hand-detailed to mimic natural shade gradations and dental nuances, some argue that aesthetics appear slightly superior to a CEREC® crown; however, most individuals have a hard time visually distinguishing a CEREC® crown from a lab-made crown.
Ultimately, it is the skill of the lab ceramist or CEREC® operator that determines the quality of the final result. Our dentist, John Cross, DDS, has extensive training  and experience with CEREC® technology and operates Sirona's most advanced imaging systems, programming, and manufacturing equipment to create the highest quality crowns for our patients.
Contact Us Today
For More Information

Email Us

(949) 242-0680