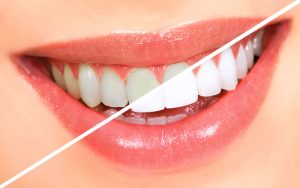 Driven by our desire for whiter, brighter teeth, over-the-counter whitening toothpastes, mouthwashes, strips, and trays now take up a significant amount of room in the dental hygiene aisle. While these items may offer some degree of benefit, you may be surprised to learn it is often safer, more efficient, and cost-effective to choose professional teeth whitening treatments and take-home systems offered only by your dentist. Dr. John Cross offers both Zoom!® teeth whitening treatments and professional at-home whitening trays and gels to help his patients get the transformative results they seek.
The highly-concentrated whitening gels and solutions Dr. Cross uses are considerably stronger than any you will find in the store, which translates to whiter, brighter results in less time. Furthermore, in-office treatments like Zoom!® teeth whitening utilize specially designed equipment (a patented whitening light) to boost whitening power and deliver results that are up to eight shades whiter. The potential for gum tissue irritation, which can result from repeated or improper use of over-the-counter whitening systems, is also reduced when you choose a professional whitening option from Dr. Cross's office. Custom-made whitening trays limit gel's interaction with gum tissue, and gingival barriers that are applied before Zoom!® whitening protect the gums from harm. Ultimately, professional whitening options recommended by Dr. Cross can deliver safe, spectacular results that consistently surpass over-the-counter methods.
For more information about teeth whitening and other cosmetic options available at OC Lifesmiles, contact our office to schedule a consultation.
Contact Us Today
For More Information

Email Us

(949) 242-0680