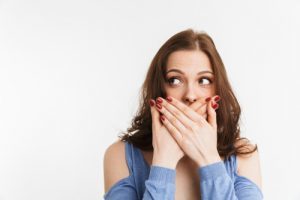 When patients come to OC Lifesmiles with a chipped tooth, our skilled cosmetic dentist—John Cross, DDS—has several treatment options to choose from that can restore natural form and function. Based on the condition of the tooth, the severity of the damage, and the patient's personal preferences, Dr. Cross takes the time to develop a highly customized treatment plan to deliver quality results for a beautiful smile. Typically, the most suitable treatments for a chipped tooth are either cosmetic dental bonding, porcelain veneers, or a porcelain crown created with CEREC® technology.
To begin, Dr. Cross performs a dental examination and uses digital x-ray technology to comprehensively evaluate the health and condition of the tooth. If the tooth is badly damaged, the most appropriate treatment is often a color-matched porcelain dental crown, which has the ability to restore the health, strength, and appearance of the affected tooth. Using the state-of-the-art CEREC system, Dr. Cross can often design, fabricate, and place your new crown within the span of a single visit.
When only minor to moderate damage has been sustained—and the health and strength of the tooth are not considered to be in jeopardy—aesthetic options such as cosmetic dental bonding or porcelain veneers may be more well-suited to achieve beautiful results. With dental bonding, tooth-colored composite resin is layered over the tooth, hardened, and shaped to rebuild the missing portion of tooth. While these results look natural and can last for several years with proper care, dental bonding work may eventually discolor and requires replacement to maintain a natural look. Porcelain veneers, on the other hand, can provide a stronger, more natural-looking, and longer-lasting repair for a chipped tooth. The veneer is a thin shell of porcelain bonded to the front portion of the tooth to conceal the chip and create the appearance of a completely restored tooth. Since high-quality porcelain ceramic material is strong, stain-resistant, and mimics the look of natural tooth material, a porcelain veneer can potentially last for decades with proper care.
Dr. Cross is committed to providing results that meet his patients' expectations, and he is experienced in communicating the various treatment options that are available while describing the advantages and drawbacks of each. If you have a chipped tooth you would like to repair with beautiful results, we welcome you to contact OC Lifesmiles to schedule an appointment with Dr. Cross.
Contact Us Today
For More Information

Email Us

(949) 242-0680