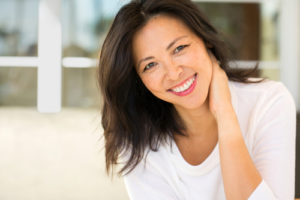 An incomplete smile can affect not only your confidence, but your ability to chew, speak, and maintain a healthy bite as well. When a tooth or several teeth are missing, our experienced cosmetic dentist—John Cross, DDS—provides a variety of tooth replacement options (from traditional to state-of-the-art methods) to restore the full function of your bite, protect your healthy teeth, and beautifully complete your smile.
At OC Lifesmiles, the tooth replacement options we offer include:
Finding a tooth replacement solution that is well-suited for your dental needs and cosmetic goals begins with a consultation at OC Lifesmiles. During the consultation, Dr. Cross performs a comprehensive examination to determine the status of your oral health and evaluate areas with missing or badly damaged teeth. Based on the location of gaps in your smile, the health of your remaining teeth, and the condition of your jawbone, Dr. Cross can discuss various tooth replacement approaches that can deliver comfortable, functional, and natural-looking results.
Choosing between a dental bridge held in place by crowns, a removable prosthetic device, or custom restorations fixed to dental implants (titanium posts that fuse with the jawbone), mainly depends on your preferences and budget. Dr. Cross clearly outlines the unique benefits and limitations of each option so that you can make the most informed decision about your dental care. No matter what dental treatment plan you settle on, Dr. Cross will use his experience and expertise to create a healthy, beautiful smile you can be proud of.
If you want to learn more about the various options we offer for replacing missing or badly damaged teeth, we welcome you to contact OC Lifesmiles to schedule an appointment with Dr. Cross.
Contact Us Today
For More Information

Email Us

(949) 242-0680