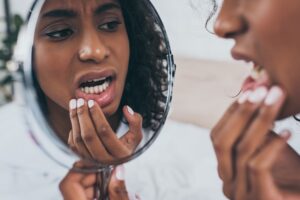 Over time, your gums may begin to recede, revealing more of your teeth. This is an unwanted change for many, and some wonder what causes it. If untreated, gum recession can continue degrading enough that the roots of teeth begin to show. In many cases, gum recession can be prevented and stopped from progressing with periodontal care. The most common causes of receding gumlines include:
Gum disease
Clenching and grinding
Tooth misalignment
Overactive teeth brushing
Injury or damage
Periodontal Care
One of the most common causes of gum recession is gum disease, which can be prevented or mitigated with periodontal care. Gum disease is an infection that can develop over time for a wide variety of reasons. This condition can start from insufficient dental cleaning techniques which can allow an excessive build-up of plaque and bacteria. If left untreated, it can sometimes lead to respiratory disease, heart disease, stroke, and diabetes, among other serious health conditions.
To mitigate the development of unwanted bacteria and prevent receding gums, proper oral hygiene methods are encouraged. You should brush and floss multiple times a day, attend regular dental checkups and cleanings, wear a night guard at night to protect teeth from grinding, and use a soft bristle toothbrush. If you are concerned about receding gums and/or gum disease, contact our practice today to schedule an appointment for periodontal care.
Contact Us Today
For More Information

Email Us

(949) 242-0680