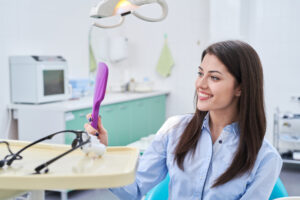 The process of placing dental implants involves a surgical procedure that can be performed right in our state-of-the-art facility by cosmetic dentist John Cross, DDS. To keep patients relaxed and comfortable during the procedure, Dr. Cross can utilize both local anesthetics and/or sedation techniques. Sedation dentistry options at OC Lifesmiles include nitrous oxide—a commonly used, inhaled gas that reduces anxiety—and oral conscious sedation, which induces a state of deep relaxation and typically results in no memory of the treatment process. The right combination of local anesthetic and sedation is unique to each individual patient and depends on a variety of factors, including the details of the proposed treatment plan, the patient's level of apprehension about the surgery, the patient's preferences, and his or her medical history. Dr. Cross is certified to provide sedation dentistry and patients' vital signs are monitored closely throughout all stages of the procedure to enhance safety. Under ideal circumstances, patients feel little or no discomfort during dental implant surgery.
Following the placement of dental implants, patients can expect to experience a certain degree of discomfort, sensitivity, and swelling while they heal. Pain medication is commonly prescribed to help provide additional comfort during the recovery period; however, many patients only require over-the-counter pain relievers. Patients are also encouraged to use cold compresses to combat swelling and follow a diet consisting of soft foods to avoid agitating the treatment area(s). Although manageable challenges can arise during healing, following the complete list of post-operative instructions is the best way to minimize complications and provide for the smoothest possible recovery. While the recovery period can vary from patient to patient, most individuals require about 24 to 48 hours of rest and find that most of the initial discomfort is resolved within one to two weeks. Mild sensitivity can linger as the implant site continues to heal and integrates with the jawbone.
Once dental implants have completely healed (usually after about a few months) they can be restored with either crowns, bridges, or implant-supported dentures to complete the smile. FInished dental implants look, feel, and function much like natural teeth. The benefits can include a comfortable fit and optimal function that eliminates many of the downsides associated with removable dentures and bridges.
Are you considering tooth replacement with dental implants? Contact OC Lifesmiles to schedule an appointment with Dr. Cross.
Contact Us Today
For More Information

Email Us

(949) 242-0680